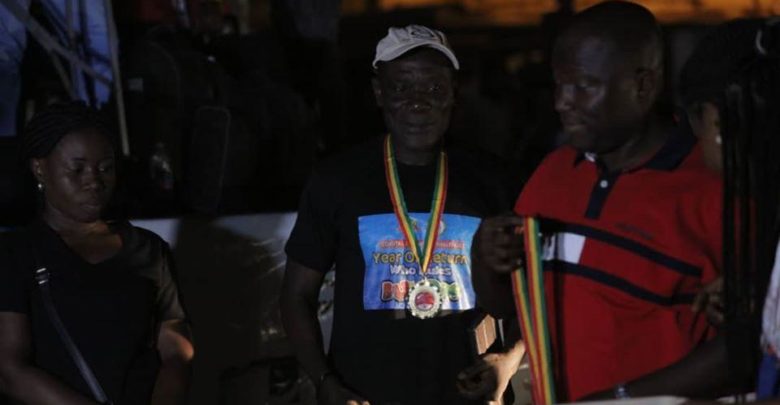 By Sammy Heywood Okine
Hon. Mohammed Adjei Sowah, the Mayor of Accra has awarded gold medals to ten sports journalists for promoting grassroots sports in the capital of Ghana.
The presentation took place last Sunday at Bukom in Accra after the exciting Tug of War finals – Year of Return Edition, which was won by Bukom.
The recepients include Sammy Heywood Okine aka General One (African Sports Media Netwotk), Prince Annang (Metro TV), Phil Jonny Quartey (Metro TV), George Lomotey (GTV Sports Plus), Theo Sampah (GTV), Nii Odartey Lamptey (Obonu TV), Doreen Lamptey (Obonu TV), Kofi Aduonum (Daily Guide), Enoch Nii Sackey (TV Africa) and Romeo Oduro (UTV / Peace FM).
The special inscripted medals were designed and produced by Dreamland Sports Plus, the nation's number one sports events and management organization for the media who have supported their programmes and activities in the past year and promoted the Mayor's Cup to climax an eventful sports season.
The Accra Mayor congratulated the media men and said those chosen really deserve to be honoured because through them the positive news reach the people via radio, television, print and social media.
Emmanuel Olla Williams, president of the Ghana Tug of War Association (GHATOWA) said the media is very important in sports management and promotion, so it is ideal that those who have done well are recognized and rewarded.
Williams who is also youth coordinator of the Ghana Olympic Committee (GOC) expressed that there is the need for various sports disciplines to be competed in Ghana for the people to enjoy and the nation to win medals.
He noted that as the nation prepares to host the next African Games in 2023, Ghanaians must start loving to play and appreciate traditional and community sport events.
He said 2020 will be more exciting and called for more assistance from the media.