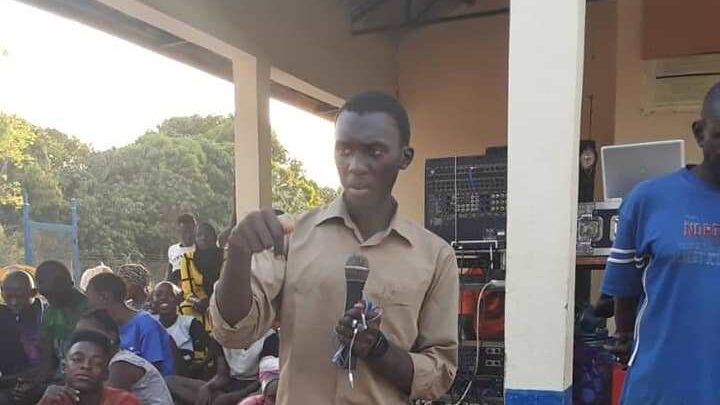 I am Lamin K Jammeh, a 22 year old youth from The Gambia, West Africa, a student-teacher, volunteer and also an environmental activist, I studied Diploma in Education at Gambia College and currently pursuing Advance Diploma Secondary in Education at Gambia College.
I'm an active member of Social & Environmental Studies (S.E.S), I was the chairperson of the association for 2years, we engaged on tree plantings, clearings in order to mitigate bush fires and sensitisations of people for a positive change towards our environment because we need a good conducive environment for our survival and well-being and likewise animals too.
As a Teacher-Trainee I join hands with others in enlightening the citizens and residents of The Gambia our roles and responsibilities towards the environment and a better future for all creatures, we then established Youth Movement For Civic Education (Y.M.F.C.E) which deals with the education, dialogue and informing people on their civic rights and responsibilities towards the nation and promotion of well structure environment for all irrespective of our differences.
Only a peace loving person wishes to live in a peaceful environment and wishing the same for all species, that been the case we embark on school- to-school dialogues with teachers and students on good management of our environment.

I am everyday passionate about environmental work in creating conducive room for all habitant of land and air. During my leisure hours, I do work around the nature to refresh my mind and also do more work for generations after me to enjoy and live in a better life. I join with others to enlighten people on dangers of improper waste management, because when we don't manage our waste materials proper, we will also be prone to diseases from those unmanaged waste materials. Part of my engagement with people is to motivate people to plant more trees since we need them in our daily well-being.
As an environmental activist, we face lot of obstacles; motivation, support, gathering youths most especially voluntary works, people put 100% hope on government to do all our needs while relaxing etc….
From the problems we are facing, we came together as youths and formed Youth Movement For Civic Education aside from our environmental foundations. YMFCE engages herself in creating more awareness in our civic rights and responsibilities which is really happing us in our activism because many are now getting to know every right goes with a responsibility so is our collective roles in ensuring to nation and world at large for our survival.
Source: Climate Daily Effects (C.D.F) is a social media platform that share stories and solutions to climate crisis in everyday life. C.D.F is presented to you Friday of every week by LYCA 's Climate Education Coordinator Miss. Kadiatu A. Sheriff. Climate Daily Effects is an initiative of  Liberian  Youth for Climate  Actions (LYCA)
You can share your stories and solutions to us (LYCA ) through these media: Nyanfor7077@gmail.com, lycactions@gmail.com , Whatsapp (+231776882413), Follow us on Facebook @LYCActions
www.delreport.com