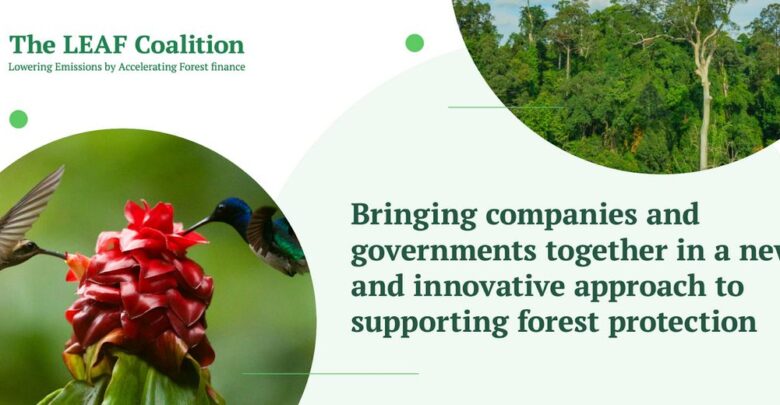 By Dela Ahiawor
Delta Air Lines and PwC have become the latest global brands to join global climate change initiative, LEAF aiming to raise over $1 billion by the end of 2021 to help save the world's rainforests from total destruction.
The Lowering Emissions by Accelerating Forest finance (LEAF) Coalition is made up of tropical forest countries and States( collectively called jurisdictions). Launched in April this year, LEAF mandates tropical forest countries to make deep voluntary cuts in their own greenhouse gas emissions in line with the science -based approach to combat climate change. On July 30, 2021 LEAF requested that tropical forest countries submit proposals for cutting their emissions from deforestation verified against ART/TREES, a high integrity standard for determining climate progress in the forest sector.
Early members of LEAF included: Norway, UK and the US. As well as, global brands such as, Amazon, Airbnb, Bayer, BCG, GSK, McKinsey, Nestlé, E.ON, Salesforce and Unilever. Currently, LEAF boats a total of 12 private sector companies including Delta Air Lines and PwC.
In a media note from Emergent Climate, the American non-profit that coordinates LEAF dated September 21, Ed Bastian, Delta's CEO said: "As a global airline committed to carbon neutrality we rely on high-quality carbon offset projects. Protecting the world's forests is pivotal if we are to truly impact climate change. It is why we are proud to join LEAF in its efforts to protect the vital tropical forests and the billions of people who depend on them, all while supporting sustainable societies."
LEAF boasts over half a billion hectares of forests, larger than the European Union. Payments to jurisdictions will be made yearly or twice a year as reductions in deforestation are achieved in the years 2022 through 2026.  Payments will enable jurisdictions to transition toward sustainable economic development that protects and restores tropical raiforests.
From the foregoing statement, Bob Moritz, Global Chairman of PwC said: "We are excited to be joining this public-private initiative to provide incentives and results-based financing for forest protection at a scale not seen before. As part of our strategy to build trust with stakeholders and deliver sustained outcomes, we're committed to playing our part to help address the climate crisis. Protecting tropical rainforests is essential to ensuring PwC can meet our global climate targets and address interlinked environmental and societal challenges such as biodiversity and nature loss."
Before funding is approved independent third-party validators will ensure total deforestation across a jurisdiction has been reduced, that efforts to reduce deforestation have not negatively impacted local communities, and that plans are in place to share benefits with local communities equally.
Tropical rainforests are biodiverse, sadly they are being destroyed and depleted by deforestation and human activities such as hunting, logging and human settlement. This deprives indigenous people of their livelihoods. For this reason, investments in reducing deforestation provide indigenous people with the needed resources to transition towards a sustainable future.
Accordingly, Fred Krupp, President of the Environmental Defense Fund said: "We cannot solve climate change unless we stop deforestation, and we cannot stop deforestation without accelerated investment from the private sector. Large-scale tropical forest protection programs like those supported by the LEAF Coalition are critical and it's encouraging to see more business leaders take meaningful climate action by joining LEAF. The urgency of the climate crisis demands that other companies follow suit, fast."
—Dela Ahiawor focuses on sustainability/climate-related Journalism and events across the globe—
www.delreport.com