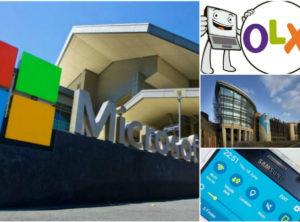 Yet another week has flown by where all the biggest news stories from across Africa, and indeed the rest of the world, have all had one thing in common, they have been about technology.
This past week, South African bank, FNB, was named Africa's top bank by Top 500 Banking Brands Report 2018.
Making headlines in Nigeria, OLX, an African e-commerce site, announced that it was closing down its offices not only in Nigeria, but also in Ghana and Kenya.
The team at IT News Africa also produced a number of quality features this week, which included: The best and cheapest mobile data bundle alternatives in South Africa and Microsoft Digital Civility Index reveals South Africa's online behaviours.
From all of us at IT News Africa, have a great weekend. The top stories of the week can be found below.
News
Demand for water-related items spikes on bidorbuy as #DayZero draws closer
On 2 February 2018, South African online marketplace and store, bidorbuy, revealed that the site has seen a sharp rise in the demand for water-related products as the severe water shortage in Western Cape continues and the ever present threat of #DayZero starts to look more like a certainty. Read More.
Huawei showcases 4K video streaming solution with FTTH
Huawei Technologies is piloting its 4K video streaming solution in a residential complex in Sandton, Johannesburg, South Africa. In a first for South Africa, according to the company, supported by Telkom's deployment of a 100mbps fibre to the home (FTTH), residents can watch ultra HD TV with the fastest internet speed. Read More.
FNB named Africa's leading bank
On 6 February 2018, First National Bank (FNB) announced that the bank was named Africa's leading bank in The Banker's, Top 500 Banking Brands Report 2018. Ranked 141st in the global banking table, with a brand valuation of $1.4bn, FNB grew its brand value by 23% in the past year. Read More.
Opera news app hits 1 million downloads in 4 weeks
On February 6, 2018, Opera News revealed that it has just broken the 1 million milestone, just four weeks after the app was launched. The app, which provides users with access to their favourite news and entertainment content, has also been ranked number 1 on Google Play store in Nigeria, Kenya, Ghana and Tanzania. Read More.
OLX shuts down offices in Nigeria, Ghana and Kenya
On 6 February 2018, it emerged that OLX, an African e-commerce platform, has shut down all its offices in Africa except the one in South Africa. The company, which is owned by Multinational media group and investor Naspers, has thus shutdown operations in Nigeria, Ghana and Kenya, according to a report by Nigerian Communications Week. Read More.
Top Opinions & Features
Best practices on safeguarding your smartphone and mobile data secure
Your Android smartphone is designed to be secure and includes many features to protect your personal information from thieves and scammers. That said, cyber-criminals are increasingly targeting your mobile device because it contains valuable data, such as banking passwords and usernames, e-commerce and social media logins, and personal information that can be used in identity theft scams. Read More.
The best and cheapest mobile data bundle alternatives in South Africa
Although the petrol price is on the steady decline and inflation has settled, exorbitant mobile data costs is still a problem. Many people have taken to social media over the past few months to rise up against ridiculous spikes in data bundles around South Africa. Read More.
Microsoft Digital Civility Index reveals South Africa's online behaviours
Microsoft, coinciding with Safer Internet Day (SID), released the results of its Microsoft Digital Civility Index. The index examines the extent of negative behaviours, online interactions and their consequences. The research encompassed 23 countries and 20 online risks. Read More.
Watch: Dr. Thomas Mensah discusses Africa's "Silicon Valley" potential
At the Technology Innovation Conference 2018, held between 1-2 February 2018, IT News Africa spoke to Dr. Thomas Mensah, a world-renowned inventor from Ghana who played an invaluable role in the creation of Fibre Optics and in setting up the newly formed "Silicon Valley of Ghana." Read More.
Can we solve the tax dilemma around Bitcoin?
Although usually behind the global curve, South Africa seems to be keeping pace with the current Bitcoin trend. This is positive, as we are living in an increasingly digital world with it only being a matter of time before currency too, became digital. Read More.
Gadgets and Gaming
PlayStation Plus Free Game Lineup February 2018
The PlayStation Plus Free Game Lineup for February 2018 has been officially revealed. Looking back at the January 2018 lineup, gamers were offered the opportunity to download and play the likes of Deus Ex: Mankind Divided and the excellent Batman: The Telltale Series. Read More.
Middle-Earth: Shadow of War new story expansion & updates released
Warner Bros. Interactive Entertainment has released the Blade of Galadriel Story Expansion, an all-new DLC for Middle-Earth: Shadow of War allowing gamers to play as the elite Elven warrior Eltariel for the first time. Known by her enemies as the Blade of Galadriel, Eltariel is a deadly assassin working for the Elven Queen, Galadriel, and has been sent to Mordor for millennia to hunt the Nazgûl. Read More.
Introducing the Art of Phone Shui
HMD Global, the home of Nokia phones, is introducing the world to a new philosophy: The Art of Phone Shui – a spoof of the philosophy of Feng Shui, and brings to life the benefits of living a pure and uncluttered lifestyle: living with everything that you truly need, and nothing you do not. Read More.
By Dean Workman