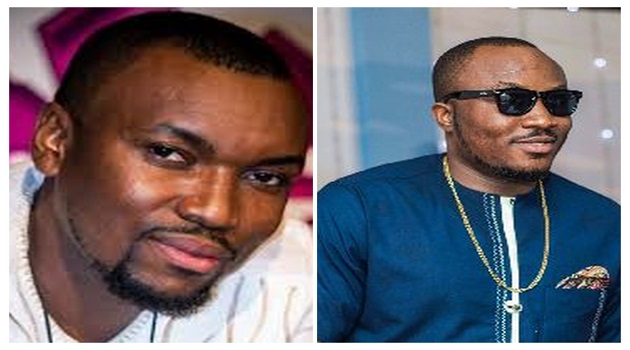 It seems the entertainment industry is always flooded with controversies and celebrity feuds.
Recently the industry players witnessed a feud between Efia Odo and Fella Makafui. Now it is the turn of comedian-cum Reggae musician, David Oscar, and Derrick Kobina Bonney (DKB).
According to David Oscar, DKB is a 'hypocrite.'
"Are you not the self-imposed king of GH comedy, so why don't you fight them? You are a friend to George Quaye, are you not? Although you and I, we teamed up to create anonymous accounts on tweeter to attack the likes of George Quaye, Nii Aryee Tagoe and others. They see you as a friend, don't they? I am sure they see you as a friend because you are the good guy and David Oscar is the bad guy. Now you are coming to me to go and attack Charter House but I said no! I won't do that. You are a hypocrite. Why don't you go and fight them yourself?" David Oscar said in an interview with Accra based radio station Okay FM.
Reaching out to DKB to tell his part of the story, he said: "If I want to attack Charter House, I wouldn't need irrelevant David Oscar to help me.
He said he [David Oscar] has retired from comedy to do music, so why would he need a musician to help fight for comedians?
"The truth is I never wanted to attack Charter House, but rather I wanted to do a Ghcomedy episode of an upcoming TV show, so that we celebrate comedy from where it was to where it is now.
…When I called him [David Oscar] I told him not to mince his words, and if he would have to "bash" Charter House for the struggle they put comedians through, he should do so but in a very justifiable manner. On that episode, it would be myself, KSM and him [David Oscar]. He agreed to do it, only for me to hear on the radio that he is accusing me of calling him to go and attack Charter House on my behalf, why would I do that," he asked?
Explaining further on f fake twitter accounts, comedian said, "I want to put on record, I didn't know about fake twitter accounts, I remember in one of our meetings, I told him that I like what the Kojo Abochie character is doing for us, he is fighting on our behalf and that I would like to meet him. He [David Oscar] told me not to worry that he is the Kojo Abochie as in a fake twitter account he created. So I am surprised today he is accusing me of having fake account and that I used it to attack George Quaye and Nii Aryee Tagoe. How could I have made him close the account when he was busily using it to propagate his hatred? Moreover, I don't have any problem with Charter House so why would I need someone irrelevant to fight them on my behalf?"
"All this is totally unnecessary, I'm focused on developing comedy in Ghana and that's what I am busily doing. I will entreat the general public to forgive me for responding to this jealousy-ridden brother and causing them needless disturbance. I promise not to further respond to him on any media platform," DKB added.
By Edward Blagogee