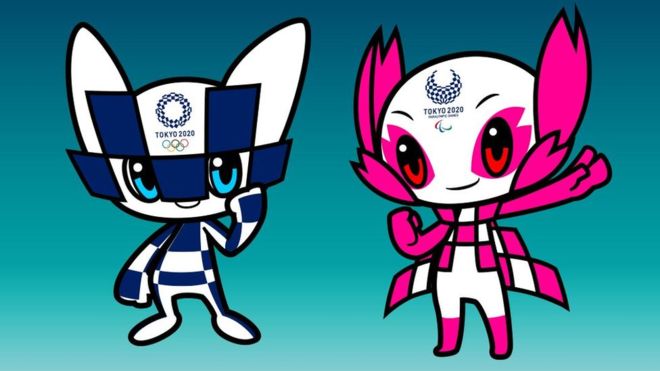 The mascots for the Tokyo 2020 Olympic Games were announced Wednesday morning.
Students from more than 200,000 classes from around 16,000 schools in Japan and overseas were able to vote on three different mascots for the games.
The winning duo — there's a a Olympic mascot and a Paralympic mascot — are a pair of animated non-descript creatures.
The Olympic mascot "is a character that embodies both old tradition and new innovation," according to a statement from the organizers of Tokyo 2020. "While cherishing tradition, it is always up to date with the latest news and information. The Mascot has a strong sense of justice, and is very athletic. The Mascot also has a special power allowing it to move anywhere instantaneously. The Olympic Mascot was born from a traditional chequered pattern and a futuristic vision of the world."
According to Tokyo 2020, the two mascots "have opposite personalities. However, they respect each other and they are very good friends. They both have a great spirit of hospitality. They always try their best to cheer and encourage everyone."
In describing the Paralympic mascot, the statement reads that it is "a cool character with cherry tactile sense and supernatural power. The Mascot is usually calm, however, it gets very powerful when needed. It has a dignified inner strength and a kind heart that loves nature. It can talk with stones and the wind. It can also move things by just looking at them. The Paralympc Mascot was born from a traditional chequered pattern and cherry blossom flowers."
"We would like to convey the values of the sports and values of the Olympics and Paralympic Games to the next generation." Masa Takaya, spokesperson for the Tokyo Organising Committee of the Olympic and Paralympic Games, told ABC News, "So in that respect, we decided to engage school children into the mascot selection process."
Japanese students voted to select official mascots for Tokyo 2020 Olympic Games
With Pyeongchang Games over, Beijing gears up to host Winter Olympics in 2022
'No interaction' between Ivanka Trump and North Korean delegation at Olympic ceremony: White House official
"These mascots will act as an ambassador for Tokyo 2020, so we are very much looking forward to having guests from overseas particularly from the US to meet our mascots in two years time," Takaya said.
By AMANDA MAILE  and ANTHONY TROTTER