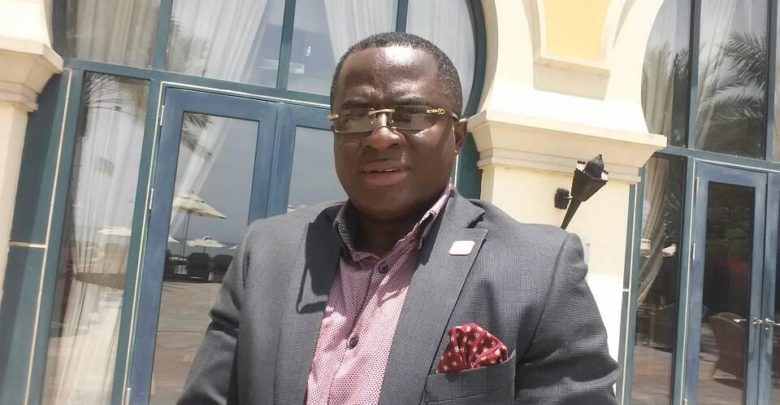 By Sammy Heywood Okine
Today, March 15, 2018, marks the first anniversary of Mr. Ben Nunoo Mensah's election as President of the Ghana Olympic Committee (GOC).
He was elected at the General Assembly Elections I 2017, taking over from Prof. Francis Dodoo in a keen contest at the Alisa Swizz Hotel in Accra. He pulled 33 votes, while Dodoo had 28.
Before coming on board, Ben Nunoo Mensah had already published his Renaissance Agenda, to restore the fortunes of Ghana Sports and ensure a transparent and accountable administration. He also promised free and transparent elections in future and accommodate other non Olympic disciplines.
For the Federations to feel part and contribute to his administration, he formed various committee appointing many Presidents as possible to serve from different disciplines.
As a visionary who knew the worth of the media, he attached sports journalists to all the Federations so that they can support in stimulating and advising the Federations. He also called on radio stations to adopt the lesser known sports, and promote them.
Within this short period, some Federations have enjoyed the Olympic Solidarity Fund. Disciplines like Tennis, Volleyball, Swimming, Taekwondo, Table Tennis, Paralympics have all benefited from the Fund and he did the most surprise by doling out training funds to Olympic and Non Olympic Sporting disciplines.
He also ensured the award of scholarships to seven deserving student athletes for their training and development.
Ghana has participated in some international competitions such as the 2017 Youth Commonwealth Games in Bahamas, the 2018 Winter Olympic Games in PyeongChang, where Akwasi Frimpong marketed Ghana in grand style, and the up coming 2018 Commonwealth Games in Gold Coast, Australia.
The GOC has contributed massively towards Ghana's preparations and participation at all these events.
As a team player, he appointed Chef du Missions to lead Ghana's contingents in the international Games, and they are performing wonderfully. Currently there are feverish preparations going on towards the flagship event, Tokyo 2020 and a working committee in working on how Ghana can get an Olympic Gold medal.
As a believer in putting up infrastructure for posterity and training, as well as competition, he has decided to revive the abandoned Amasaman Olympic project and has personally contributed in clearing and leveling the site.
Architectural drawings for the sports project has been shown to the media and efforts are being done to get sponsors to support the project.
Before, he had visited Togo with some GOC members to look at their OlympAfrica project for Ghana to have a similar one for Youth & Kids Sports Development.
Already some companies like Cocoa From Ghana, PaySwitch, Twillieum Ghana, McDan Group, Champion Dishes, Phoenix Insurance, GNPC and others have been supporting the GOC, and the President cannot thank them, but pray that they yield more profits and dividends in order to give more to the youth, the disabled and sports development.
His presence and that of Ghana has been felt on the international front, attending ANOCA General Assembly meeting in Djibouti, meeting some of the influential personalities in sports and personally getting an international executive appointment on the African Weightlifting Federation.
Ben Nunoo Mensah has also refurbished the GOC Secretariat by restructuring of the offices and appointing experienced staff to manage with the support of the elected executives.
The GOC's Benz Van is on the road after a long lay off, and a Hyundai matrix car donated by McDan is serving the GOC very much and many thanks must go to Dr. Daniel Mackorley aka McDan.
Ben Nunoo Mensah definitely cannot work alone, and great acknowledgement must go to the entire excutives and the committees.
Mention can be made of Paul K. Atchoe- First Vice President, Richard Akpokavie –General Secretary, Evans Yeboah- Second Vice President, Fred Lartey Out-Treasurer, Theo Wilson Edzie- Assist. Treasurer, Herbert, Mensah, Nii Adotey Dzata I, Isaac, Albert Frimpong, Michael Aggrey, Linear Obo Addy, Mahamadi Mohammed, Emmanuel Nikoi, Duah, Mawuko Afadzinu, Mr. Kelien, Melvin Brown, George Owusu Ansah aka Nana Mankatta.
These personalities and many others have contributed to the smooth running of the GOC as it has regained credibility in the eyes of corporate Ghana.
There are many things in the Renaissance document yet to be tackled and we pray and hope that by the end of his term, the GOC much chalk many laurels, and they will call for more.
In his anniversary message he tweeted "I took office to lead @GhanaOlympic a year ago. We're on an all inclusive mission to re-brand, give hope to corporate Ghana and a future to athletes Thanks to all my federation heads. It's time for @GC2018 and I challenge Team Ghana to excel".
www.delreport.com