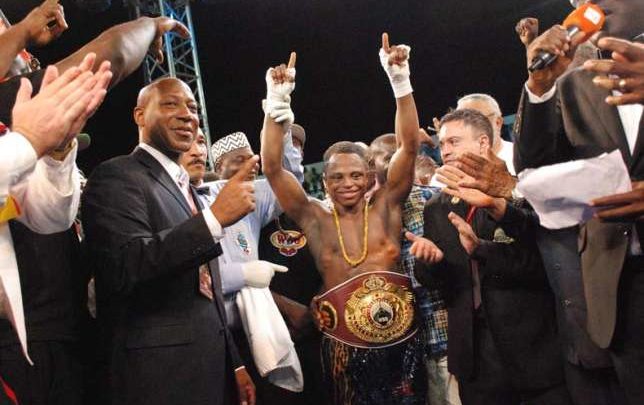 Ghanaian boxer Isaac"the Royal Storm" Dogboe knocked out Jessie Magdaleno at the Liacouras Center on the campus of Temple University in Philadelphia to become the new WBO Super Bantamweight champion
The fight between the two which was dubbed "The battle of the undefeated" lived up to what it was as Isaac Dogboe and Jesse Magdaleno slugged it out for the WBO Super Bantamweight Title
Isaac Dogboe started on a slow note as he was knocked down in the first round by the title holder Dogboe responded in Round 2 and kept growing into the bout until round 5.
That was where Dogboe was administered a devastating hook which saw Magdaleno administered his first knockdown of his whole career.
Isaac Dogboe kept landing punches in the subsequent rounds thereafter and Magdaleno kept on taunting him until the 9th round.
Dogboe went past the 10th round with all guns blazing and kept on landing the best of head and body shots as Magdaleno kept pinned to the ropes.
It was the 11 round where Isaac Dogboe where met his moment of truth as he put Magdaleno to the canvass twice which gave the American referee Benjy Esteves no option but to stop the fight.
Isaac Dogboe from that very moment became the new WBO super bantamweight champion.
Dogboe sets the record as the youngest Ghanaian world champion at age 23.
Isaac Dogboe now remains undefeated after winning 19 out of 19 fights.
Magadaleno loses his first professional career fight to Dogboe after going through 25 bouts unbeaten which takes the now former WBO Super Bantamweight Champion to a record of 25-1 in 26 fights.
pulse.com.gh