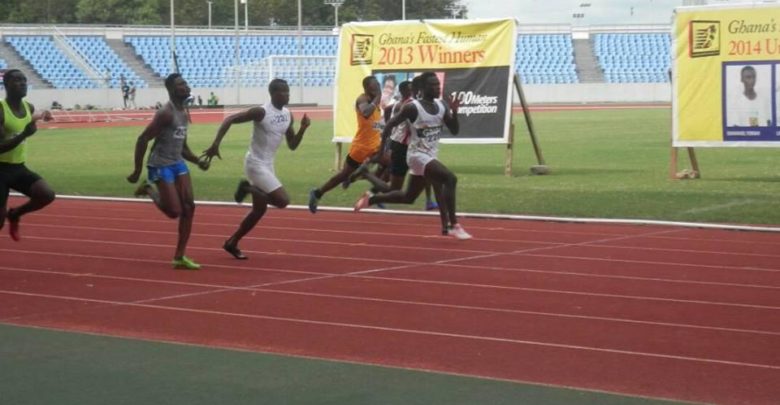 By Sammy Heywood Okine
Edwin Gadayi maintained his form to claim the first place at the 2018 GNPC Ghana Fastest Human: Cape Coast Meet in 10.45secs.
The winner of the Tamale Meet in a good time of 10.11secs did not get the needed opposition and challenge to come out with the expected fastest time; however the event was well organized and attractive with the students cheering their favourite athletes.
For the full results: Edwin Gadayi was first in the seniors competition in 10.45sec, followed by Raymond French in 10.62secs and John Osei Kofi in 10.77secs both from the Western region.
In the female seniors race, Kate Agyeman from Ashanti was first in 11.90secs, second was hard working Mary Boakye in 12.07secs and Grace Obour also from Ashanti took the third position in 12.14secs.
The Boy's Under 18 went to Iddrisu Musah of Messec Reg in 10.79secs with George Odoom of Augusco coming second in 10.97 and Alhassan Razak of Okess claiming the third position in 11.02secs.
Helena Sarfo of Nyankere School won the Girls Under 18 in 13.51secs, followed by Gifty Yawson and Peace Akoh of Shama SHS in 13.52secs and 13.79secs respectively.
Under 15 Boys – 1st Eric Kenneth Mensah (Methodist Primary, Western) 11.77secs, 2nd Solomon Oware (Mankesim M/A School) 11.96secs, 3rd Michael Otoo Asheampong (TI Amass) 12.09secs.
Under 15 Girls – 1st Abba Kanamah (Nsuotre School) 13.13secs, 2nd Irene Mensah (Eben Methodist) 13.18secs, 3rd Pearl Awanya (University JHS Central) 13.32secs.
Boys Under 10 (60meters) – Thomas Asumang (Tepa Primary, Ashanti) 7.50secs, 2nd Ben Niako Asare (Old Tafo R/C, Ashanti) 7.80secs, 3rd Kwamina Turkson (Synchair International) 8.30secs.
Girls Under 10 (60meters) -1st Abigail Biney (Amankwatia School, Ashanti) 8.40secs, 2nd Nuhu Ibrahim (Aisha Bintu School, GA) 8.50secs, 3rd Antwi Martha (Old Tafo R/C Ashanti) 8.70secs.
Dr. Emmanuel Owusu Ansah, Technical Director of the Ministry of Youth & Sports was there to grace the event. He commended the organisers and participants, most of them students.
All of names mentioned from first to third got prizes from the sponsors. GNPC Ghana Fastest Human which is aimed at discovering and grooming an international world class 100meters sprinter is sponsored by GNPC, Adidas, Indomie Instant Noodles, Moringa King, Wrenco Printing, Kriate Lync, Pippas Gym and others.
The next Meet comes off in Kumasi in the Ashanti region and as usual it would be keen and interesting.