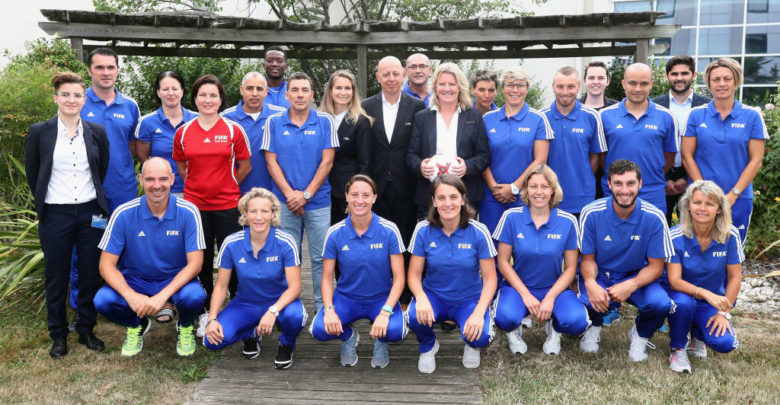 FIFA Regional Women's Coaching Workshop began Saturday in Rennes
Ten-day workshop includes women's coaches from French-speaking nations
Participants will analyse matches at this year's U-20 Women's World Cup
Women's football coaches from various French-speaking regions have gathered in Brittany for a FIFA Regional Women's Coaching Workshop, which began on Saturday 4 August. The ten-day workshop will include instructional seminars and practical sessions, as well as viewing and analysing matches at the FIFA U-20 Women's World Cup France 2018.
Participants at the workshop not only include coaches that work in regional academies and at the youth sections of clubs in Belgium, France and Luxembourg, but also individuals from as far away as Haiti and New Caledonia. They will take part in seminars conducted by FIFA instructors Sonia Haziraj and Anne Noe, as well as guest speakers including France women's national team coach Corinne Diacre, referee Fatou Gaye, and members of the U-20 Women's World Cup Technical Study Group in Patricia Gonzalez and Elisabeth Loisel.
As part of the workshop, the participating coaches will attend six matches in the group stage at France 2018, where they will observe developments in the women's game at that age level and share those experiences with fellow participants, with the aim of making plans for the future of women's football in their clubs, regions and countries.
"This project is within the scope of FIFA's competitions' legacy initiatives," said Emily Shaw, FIFA's Head of Women's Football Development. "For these coaches, there is no better backdrop than the FIFA U-20 Women's World Cup – the pinnacle of elite youth development – to gather, exchange and learn during this seminar."
Shaw also emphasised the importance of having an international group of coaches share their experiences with the participants from France. "The participation of Belgium, Luxembourg, New Caledonia and Haiti adds an international dimension to the debates," she said. "Furthermore, this provides such member associations with an opportunity to bring key learnings and best practices to apply back home."One individual that has welcomed this workshop opportunity is French Football Federation vice president Brigitte Henriques.
"We want to thank FIFA for the opportunity to gather these key actors for the women's game in our country," she said. "This seminar will provide them with new tools and further strengthen our internal networks, which is critical for the overall success of our game."
Fifa.com