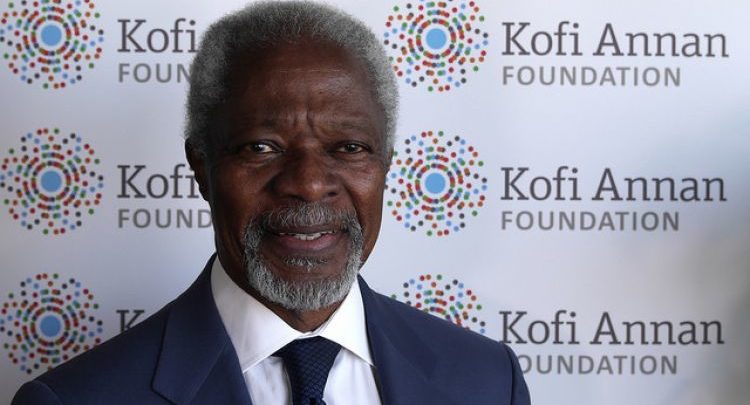 THE FORMER SECRETARY General of the United Nations Kofi Annan has died.
Annan, who led the UN from 1997 to 2006, was awarded the Nobel Peace Prize in 2001. He was the first black African secretary of the organisation.
The Ghanaian diplomat died in hospital in Bern, Switzerland, in the early hours of this morning, Reuters reports. He was 80 years old.
His foundation announced his death in a tweet, saying that he died after a short unspecified illness.
"It is with immense sadness that the Annan family and the Kofi Annan Foundation announce that Kofi Annan, former Secretary General of the  United Nations and Nobel Peace Laureate, passed away peacefully on  Saturday 18th August after a short illness," the Kofi Annan Foundation said.
"Kofi Annan was a guiding force for good," Guterres said in a statement shortly after the news broke.
The UN Migration Agency said: "Today we mourn the loss of a great man, a leader, and a visionary: Former UN Secretary General Kofi Annan. A life well lived. A life worth celebrating."
'Humanity's best example'
Born in Kumasi, the capital city of Ghana's Ashanti region, Annan was the son of an executive of a European trading company, the United Africa company, a subsidiary of the Anglo-Dutch multinational Unilever.
After ending his second term as UN chief, Annan went on to take high-profile mediation roles in Kenya and in Syria.
He later set up a foundation devoted to conflict resolution and joined the Elders group of statesmen which regularly speaks out on global issues.
The UN high commissioner for human rights Zeid Ra'ad Al Hussein said he was grief-stricken over Annan's death.
"Kofi was humanity's best example, the epitome, of human decency and grace. In a world now filled with leaders who are anything but that, our loss, the world's loss becomes even more painful," he said.

"He was a friend to thousands and a leader of millions."
Annan is survived by his wife, Nane, and their children Ama, Kojo and Nina, who were by his side when he died.
 AFP