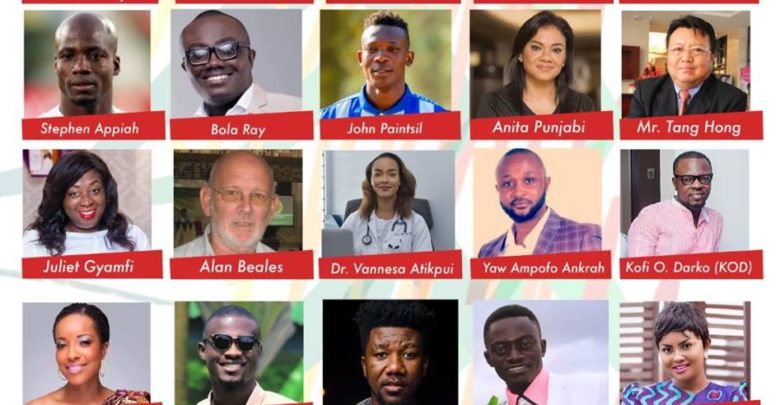 With 30 days to go, the closing date for the registration of the Big Millennium Marathon 2018 has been extended from August 20thto September 20 due to popular request.
The organisers say they want to give the opportunity to many people to come to the Independence Square in Accra to come and run, socialize and do business.
Ambassador Ashim Morton, founder of the event said this year's edition is totally different as the media have supported him very well and the news about Millennium Marathon is on many media platforms including social media.
He said some personalities have been appointed as Ambassadors for the 2018 edition and they are all playing their respective roles very well.
He named them as; Dr. Okoe Boye, Prof. Azumah Nelson, HE Claudio Quintero, Hon. Mohammed Adjei Sowah, Wael H. Hakim, Stephen Appiah, Bola Ray, John Paintsil, Anita Punjabi, Mr. Tang Hong, Juliet Gyamfi, Alan Beales, Dr. Vannesa Atikpui, Yaw Ampofo Ankrah, Kofi O. Darko (KOD), Joselyn Dumas, Roddy Morgan, Tic, Kojo Nkansah Lil Win, Nana Ama McBrown, Naa Ashokor, Nana Aba Anamoah, D Black and Sandra Ankobiah.
Mariam Ismail from Tanzania is the Face of the Big Millennium Marathon which comes off on September 22, 2018.
She says her expectations are very high and big as she knows Ghanaians love sports and are very hospitable and friendly.
The 2018 Millennium Marathon has Unilever, Japan Motors and Elite Sports as the Gold Sponsors. The Silver Sponsors are Emirates, Beautiful Beneath, MTN, Impact Clinic and ddp. The Bronze Sponsors include Tang Palace Hotel, IPMC and Garmin. The Donors are Indomie, Can West, Royal Habits and Smart Books. The logistics partners are G4S, NLA, Frankies, Wigal, Accra Mall, Papaye, Blue Skies and Whirlpool.
This year marks the fourth edition of the international event which is aimed at encouraging people to live healthy lifestyles, promote tourism and make someone happy by winning a brand new Nissan Kicks at stake in a special raffle.

Any body interested in winning the car can dial *800*17# with a balance of 50ghc in his mobile account.
Meanwhile, there are mini raffle draws being held every fortnight, and many lucky people have won fantastic prizes like flat screen television sets, laptops, microwaves, printers, freezers,refrigerators and sports equipment.
By Sammy Heywood Okine