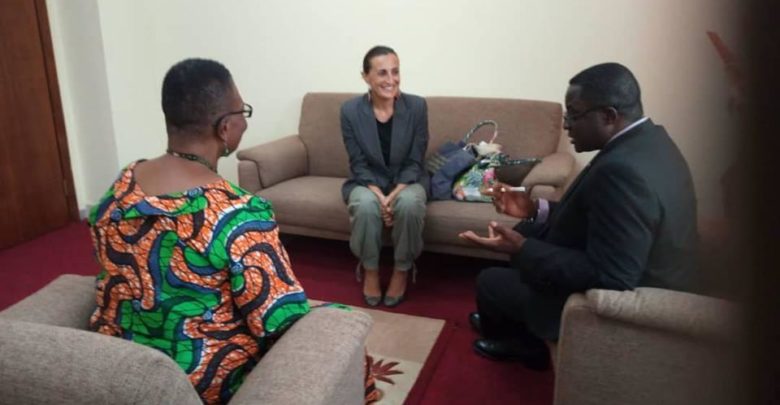 The President of the Ghana Olympic Committee (GOC) Mr. Ben Nunoo Mensah has commended Madam Gloria Commodore and the Women In Sports Association (WISA) of Ghana for coming up with an Achievers Awards to motivate and honour female sports personalities who excel in their disciplines.Speaking to the media at the launch of the second WISA Awards held at the Conference Room of the GOC, he congratulated the team who organized the programme and hoped that corporate Ghana would support the good initiative.
He said sportsmen and women need to be inspired to give off their best, and a nation that does not honour its heroes is not worth dying for.
He commended Ghandour Cosmetics for coming into sports to support the women and girls.
Ben Nunoo Mensah noted that sports many people enjoy the achievements of sports winners, so many companies must come on board to support sporting activities.
Mr. Leslie Koroma, President and CEO of African Sports Media Network (ASMN), the international media partner of WISA also in a telephone interview praised his director and team in Ghana who played a major role in the event.
He promised to attend the main event on September 29 at the Accra Sports Stadium.
He also called on companies to use sportsmen and women in advertising, marketing and even social media as sports is a great tool for advertising.
Madam Gloria Commodore, Executive Director of WISA who was very elated with the attendance and well managed event said looking at the way the launch went; the main awards would be grand and urged the media to support girls and women who do sports.
Madam Gifty Annan Meyers, a patron of the Sports Writers Association of Ghana (SWAG) and WISA said women can do more if they are encouraged.
Kwabena Yeboah, President of SWAG noted that the efforts of WISA is great as they are complimenting the prestigious SWAG awards. He was happy that most of WISA members are in the media.
Irene Donati, brands and commercials manager of Ghandour Cosmetics said the event was super, and she is looking forward to the grand awards in a month's time.
Sammy Heywood Okine aka General One the only male in the executive of WISA called on companies who produce items mostly used by girls and women to support WISA. He also praised the media for the publicity and attention they are receiving.
By Sammy Heywood Okine and Christiana Quarshie