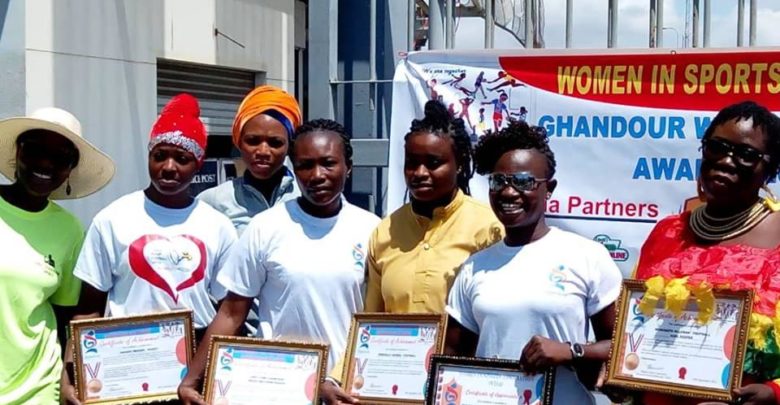 Most of the winners of the 2018 Women In Sports (WISA) Achievers Awards have expressed surprise, shock, gratitude and satisfaction.
26 outstandingemale sports personalities f were recognised and rewarded at the second ceremony which took place at the multipurpose court of the Accra Sports Stadium.
Helena Williams, a senior sports coach at the University of Ghana said she was shocked when she heard her name in the news because her award is long over due, because she has done much to deserve a national award, and she is very grateful for her nomination.
She noted that Women should be encouraged to participate in sports.
Mrs. Cathy Morton, Race Director of the Millennium Marathon and organizer of the Kiddie Mile Race also expressed her surprise, because she never thought people were watching and seeing what she was doing, and urged the WISA to go on with the good work.
Memunatu Suleimana, former Black Queen goalkeeper said the honour done her by WISA means that her effort in playing for the Black Queens was never in vein and appealed to Ghanaiana to support them to win the 2018 African Womens Championship ro be played in Ghana.
Priscilla Adobea, the striker of the Black Princess who was also injured and could not feature at the U20 FIFA World Cup thanked the entire WISA body and the ladies in the media who are supporting her to recover.
Hor Halute, the sentational sprinter who shocked athletics fans at the 2018 Commonwealth Games said she has been inspired by the gesture of WISA, and promise to train harder to perform better.
Gloria Peprah of GTV Sports Plus fame said her award will make her do much better in her media career.
Coach Mercy Tagoe Quarcoo, assistant trainer of the Black Queen expressed that WISA is doing a wonderful work and they should be supported by companies. She commended Ghanduor for supporting the second WISA Awards.
Ms. Filipina Frimpong of the National Sports Authority (NSA) who won an award in sports administration said the concept of WISA is motivating and inspiring.
Madam Rosemary Gaisie, president of WISA who was full of joy on the day said God has been good to them as he brought on board three sponsors at the last minute.
The awards ceremony begun in the morning with a Health Walk through the principal street of Osu, then an aerobic session and demonstration of netball, taekwondo and rugby, before the awards.
The impressive event was sponsored by Ghandour Cosmetics, Indomie, Special Ice and Paradise PAC.
Some agencies that inspired the event were the Ghana Olympic Committee (GOC), Sports Writers Association of Ghana (SWAG), African Sports Media Network (ASMN), Online Sports Journalists Union (OSJU) and the National Sports Authority (NSA).
The award winners were Twenty-six women from different sports disciplines, including media, administration, coaching, refereeing and supporters.
They are Victoria Dowuona – Tennis, Samira Suleimana – Football / Charity, Phillipina Frimpong – Administration, Mercy Tagoe Quarcoo – Football, Veronica Commey – Media, Memunatu Suleimana – Football, Catherine Morton – Education, Gloria Peprah – Media, Hor Halutie – Athletics, Cylia Baah Danso – Table Tennis and Irene Yarboi – Hockey.
The others are Rosemary Ametepe – Boxing, Madam Alice Attipoe – Administration, Black Queens – Football, Gladys Patterson – Supporter, Amy Fynn – Thompson – Media, Helena Williams – Coaching, Mary Ennoo – Badminton, Akosua Nkansah – Para Badminton, Ali Ayishatu Zakaria – Media and  Priscilla Adubea – Football.
The rest are Kaya Forson – Swimming, Rafatu Inusah – Rugby, Nadia Darley Sackitey – Taekwondo, Cynthia Lamptey – Handball.
The climax was a Special Award to Ghandour Cosmetics and Madam Gloria Commodore, the major financier and executive director of WISA.
She hinted that the awards will be better next year, and commended the media and sponsors.
By Sammy Heywood Okine