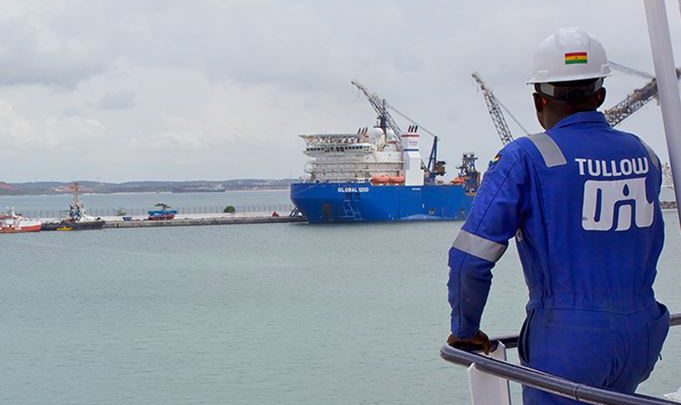 Independent oil explorer Tullow is confident of stronger crude output next year due to increased drilling in its West African assets and hopes to strike oil at its block in Guyana, exploration director Angus McCoss told S&P Global Platts.
Tullow will also continue to invest in its development assets in Kenya and Uganda along with undertaking extensive exploration work in its Cote d'Ivoire and Mauritania licenses, McCoss said on the sidelines of the Africa Oil Week conference.
McCoss said Tullow was carrying out drilling work at two wells in Ghana which should boost oil output steadily in coming months.
Gross production from its Jubilee and TEN assets in China could rise close to 180,000 b/d later this year with output jumping to 200,000 by 2019, McCoss said.
"We have got a lot of organic opportunities to extend the production plateau in Ghana," he said. "We feel there is a potential there to stretch our teams to have an aspiration to stretch our production to around 200,000 b/d [next year]."
KENYA ISSUES RESOLVED
Regarding, Kenya, McCoss said despite some issues with local stakeholders, Tullow was still hoping to reach a final investment decision on its Turkana oil fields next year. "That will allow us to get first oil in 2021/2022."
The company is currently trucking around 100 b/d of crude from the Turkana fields to Mombasa.
Under an Early Oil Pilot Scheme which began in May, up to 2,000 b/d of oil from the fields will be trucked to Lamu on the Indian Ocean, where it will be stored until there is enough to fill a tanker.
Tullow expected to have the first cargo of this light sweet waxy crude in the first quarter of 2019 which will be offered in to the Indian Ocean market, McCoss said.
The company is targeting crude oil production of 60,000-80,000 b/d from the South Lokichar Development and to build an export pipeline to Lamu.
GUYANA FOCUS
The success of recent oil discoveries in Guyana have surprised and excited oil explorers and Tullow has prioritized drilling in this country next year.
"Our exploration assets in Guyana are coming into focus for 2019. Our strong prospects for 2019 are next to the recent [ExxonMobil] discovery," McCoss said.
Tullow was expected to spud its first well on the Orinduik block in late 2019.
The Orinduik block offshore Guyana could hold almost 3 billion barrels of oil equivalent of recoverable oil and gas, raising the stakes for closely-watched wildcat drilling planned for next year.
The block lies adjacent to ExxonMobil's Stabroek license where the oil major has already announced a string of large oil finds.
ExxonMobil estimates a recoverable resource of over 4 billion boe has been discovered to date, with the potential for up to five FPSO vessels producing 750,000 b/d by 2025.
Meanwhile in Africa, Tullow has also started exploration work in Cote d'Ivoire, which it believes is a clearly established oil basin with prolific oil seeps.

"We are going back to develop less complex development wells…We have a strong organic portfolio with diversity along with a good outlook and strong production," McCoss said.
The company will continue to pay down debt and "maintain our healthy portfolio" which has now emerged from the oil price crash reset, he said.
Source: spglobal.com