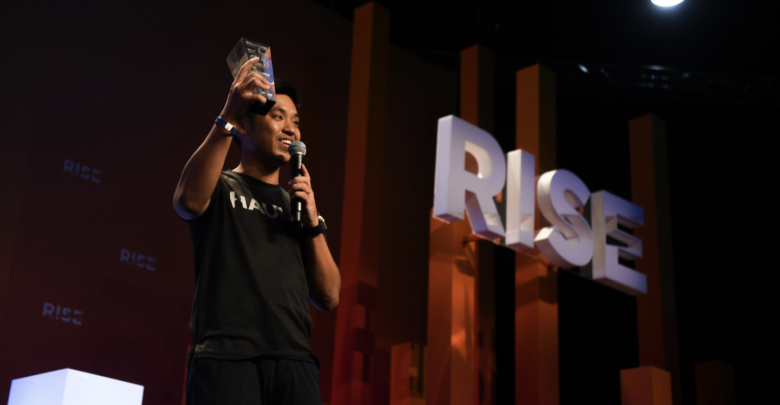 Container haulage startup Haulio has been named the winner of PITCH 2019 at RISE. 
PITCH, in partnership with Manulife, brings together the world's leading early-stage startups for a live onstage battle. This year around half of the 777 startups Asia largest technology event RISE applied to be part of the competition, with 60 being selected and given the opportunity to present at the PITCH stage in front of Asia's top investors. 

From Singapore, the operating system for container haulage enables containers to move like clockwork beyond the port, saving time and resources for hauliers. It's the simplest and most reliable way for businesses to get their containers moved. Haulio comes from PSA unboXed incubator and is now working with tens of thousands of containers in Singapore.
"Winning PITCH is validation for our business." – said co-founder Alvin Ea. "Containers are so big but people don't actually notice them. We're trying to bring to the world stage something that is hidden to many people. PITCH can help bring our company to the world stage and let people know this a problem worth solving. "
"Our speciality is in container trucks. There's a big pain in this industry and  workers are suffering silently from the inefficiencies. They just do the same thing over and over again for years and they don't change their habits. They are so good at what they do, but it's a profession built by early generation that don't really understand tech. Industry leaders want to transform their business but they don't know how. There's not many startups in the logistics industry for cargos."
"PITCH has helped me hone up my pitching skills. It's a challenge to explain my business in 3 minutes! I have to bring toy trucks, as they don't really understand the business to show them how it actually works!"
About Haulio
Haulio is Singapore's largest network of haulage service providers and the simplest & most reliable way for businesses to get their containers moved.
A centralized collaborative B2B platform for the Container Haulage Industry, we connect Containers to Customers seamlessly. With more than 70% of Singapore's hauliers already on the platform, Haulio is Singapore's largest network of haulage services, giving customers an outreach of more than 2,000 trucks and 20,000 trailers. Incubated by PSA unboXed, Haulio aims to bring value to the various stakeholders within the Container Haulage space, and lead the industry's digital transformation into Industry 4.0.
About RISE
According to CNBC, RISE is "the largest technology gathering in Asia". Now in its fifth year, the event brings together the world's leading founders, investors, multinationals and the world's most promising startups to Hong Kong from July 8-11. They'll be joined by journalists from major global media outlets and thousands of attendees for three days of unparalleled networking potential.
About Web Summit
Forbes says Web Summit is "the best tech conference on the planet", Bloomberg calls it "Davos for geeks", Politico "the Olympics of tech", and the Guardian "Glastonbury for geeks", and in the words of Inc Magazine "Web Summit is the largest technology conference in the world".
Whatever Web Summit is, it wouldn't be possible without an incredible team of over 200 employees based in Dublin, Lisbon, Toronto and Hong Kong; including world class engineers, data scientists, designers, producers, marketers, salespeople and more. They've disrupted an old industry by building incredible software and designing mind-blowing events – revolutionising how people and ideas come together to change the world.
As one of the world's largest gatherings of entrepreneurs, investors multinationals and thought leaders – over 120,000 people from more than 170 countries join Web Summit in Lisbon, Collision in Toronto, RISE in Hong Kong.
Press Release for www.delreport.com
 Source: Katherine Farrell, riseconf.com/media