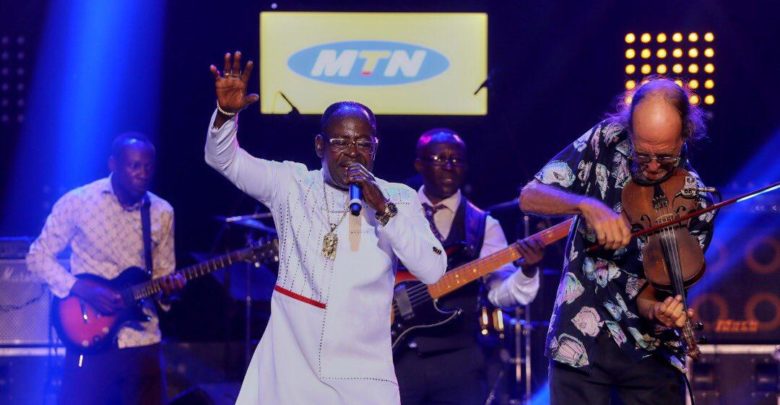 Highlife legend Abrantie Amakye Dede on Friday, December 6 thrilled music lovers at the farmers' day edition of the MTN Music festival event held at the AICC in Accra. Amakye Dede's one hour performance was electrifying, as he gave his fans a feel of good Ghanaian danceable highlife music.
The 'Akwadawesoa' hitmaker performed most of his popular songs like 'Adukro mu nsuo', 'Bebrebe', 'Iron Boy', 'Wanware Me A', 'Odo Mani Agyina', 'Ohohoo Batani', among others.
The Checheku band, set the ball rolling with some great life band music which indeed made the place more fun and interesting with their singing skills and dance moves while playing the instruments at the same time.
The Angela Hit maker, Kuame Eugene proved to the crowd that he is truly the 'king of highlife music' as he performed some of his hit songs: 'Wish me well', Angela, Confusion, Aku Shika etc. with amazing dance moves and interaction with the audience.  His energetic performance made the night more fun, while patrons sang along with him.
After his performance, the Ashaiman based comedian Ramzy, took over the stage with his rib cracking jokes which took the audience to another level with laughter and excitement all over their faces.
Highlife legend, Rex Owusu Marfo commonly known as Rex Omar got the audience on their feet with his flamboyant performances. He got the patrons to sing along to his all-time hit songs like 'Fa W'akuma ma me' and Abiba.
The audience went into a state of frenzy as DJ Andy Dosty played some of the hit songs from the late 90's to early 2000's with surprise performances by artistes like T Blaze, Ex Doe Bright of Buk Bak fame and Shatta Mitchy. Kidi A.K.A Sugar Daddy, with his thrilling performance got the audience support with their screams and he did not disappoint; his energy and voice all came together well and the audience were with him all the way as he performed some of his hits Adiepena, Say You Love Me, Sugar Daddy, Odo etc.
Crowning the night, the High Grade boss Samini, who is well known for his live band styled music did so well by treating the crowd with some enthusiastic performance and stage made lyrics.
The farmer's day edition of the MTN Music Festival ended in a grand style with a lot of excitements. The night saw a lot of patrons trooping in their elegant costumes just to come and celebrate farmers with MTN. Indeed the night was full of music, fashion, glitz and glamour.
The MTN Music Festival was organized in partnership with Slip Entertainment to celebrate and stimulate the county's creative art industry.
MTN is poised to excite its customers as the year draws to a close with entertainment events such as the MTN Hitmaker, Carols Night, Stonebwoy Concert amongst others.