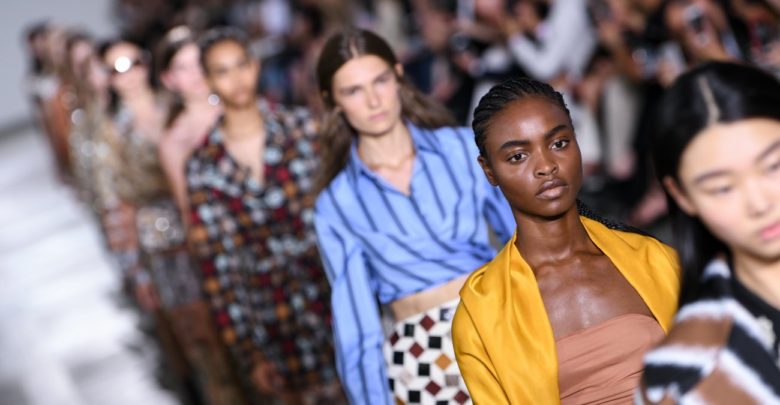 When Ghanaian model Munira Zulka shows up to walk a runway, she comes prepared with her foundation, a hair brush, and some hair gel in her bag. Despite a team of hairstylists and makeup artists backstage, and three hours before the show to prep, Zulka says trusting her appearance to the pros backstage is always a risk.
"Usually they just tell you, 'You're good to go,' but you just look at yourself and know your hair isn't looking right," says Zulka. "Because you are a Black model, they send you out looking like whatever. They really don't care. I know if I don't care for myself, then they are not going to do it."
BEN GABBE/GETTY IMAGES
Model Munira Zulka (second from right) with her peers at the Mara Hoffman presentation
As more women of color walk in designer shows than ever before, the progress on the runway has exposed another diversity issue backstage: Most of the hair and makeup artists are white. And while it seems standard that all backstage pros (of any ethnicity) would be properly trained to work with a range of hair textures and skin tones, as Zulka knows, that's not always the case.
People have heard the horror stories of 
artists not having the right foundation or concealer
 for a model backstage, and hair is where the education gap is especially evident. While there are typically one or two pros on each team who specialize in styling Afro textures, some models still have to sneak into the bathrooms to fix their own hair before hitting the catwalk.
In many cases, it's not unusual for models with natural hair to be left completely untouched. And sometimes it plays into the designer's vision — like at Mara Hoffman's Spring/Summer 2019 show, where the hairstylists enhanced every model's natural texture, whether it was straight, wavy, curly, kinky, or coily. But other times, it can feel like a cop-out or a diversity play, especially if every other white model is getting an elaborate updo or braid. "If there is a moment where they say, 'Oh, we want to keep her who she is,' then I accept it," says Ethiopian model Lula Kenfe. "But if it's, 'Let's do natural for her,' sometimes I want the exact look that is happening, if it's straight or a ponytail or whatever."
The disconnect can often show a lack of understanding by hairstylists. "My hair is so flexible. You can do whatever you want to do, you just have to know how to do it," says Kenfe. The beauty of Black hair is that it is so versatile, but whether it's left curly or styled according to the designer's inspiration, a level of expertise is still required. That's where Black stylists like Felicia Burrows come in.
The hairstylist has been working backstage under Guido Palau for 10 years and has styled hair for designers like Dior, Marc Jacobs, and Ralph Lauren. She travels from city to city during Fashion Month, and she knows that one of her primary roles is to care for the Black models. "I know my place. I'm going to make sure they're right, and I'm happy because I want them to look right," she says. "All the models say, 'Until we see you, no one touches us.' You can see it because you look at the pictures and the hair is all over the place. You're like, 'Really? Y'all couldn't have done any better than that?'"
"
"All the models say, 'Until we see you, no one touches us.' You can see it because you look at the pictures and the hair is all over the place. You're like, 'Really? Y'all couldn't have done any better than that?'"
FELICIA BURROWS
"
Often times, Black models are passed on to Burrows, and she's fine with that. But she only has two hands — and as the number of Black models increases, there's a desperate need for more stylists who can work with Black hair backstage. "Usually there are only just two of us for this team. Then you'll see maybe one or two more with all the extras," Burrows says. "It's amazing that there're not many [of us], because we do Black hair but we can also do Caucasian hair. If you can do Black hair, you can do anything else."
Black stylists and Black models usually seek each other out backstage, but you can't always predict whose chair you'll end up in. "Whenever someone pulls me out, I'm so nervous," says Zulka. "Sometimes they just want to feel like they know what they are doing." And for models whose income depends on their appearance, a mistake can result in more than just a bad hair day.
"I remember them trying to straighten my hair minutes before the show, and you could see the steam and the smoke, and there was pulling and the tugging," model Natalia Harris says of her earlier days as a model. Now, she's more adamant about her 
hair health
 and takes the time to educate when she sees mistakes being made. "I'm like, 'Wait, don't use that brush over there because that will tug my hair out.' With the flat iron I say, 'No, I'd rather you use a blowdryer with a diffuser.'"
"
"I don't want to say it's a color thing, because some white people know how to braid and some Black people don't know how to braid."
SUSAN OLUDELE
"
When Black models end up with a style that's off, it also affects their confidence on the catwalk. "I'm walking on the runway and I'm saying to myself, 'Do I look OK? Why does everyone look pretty and not me?'" says Zulka. "I want to feel pretty and look pretty on the runway. It's my job, it's my career."
So why aren't there more Black stylists backstage? Like most things in the fashion industry, getting a styling team gig is determined by who you know. Burrows landed her position on Guido's team when she was recommended by another Black stylist who was working on his team. Others were placed on teams through their agencies. And those who are ambitious reach out through Instagram or email to apply.
Stylist 
Susan Oludele
, who was responsible for activist Ericka Hart's box braids and beads on the Chromat runway this season, said her first backstage opportunity came as an intern years ago. She found the role through Facebook. But in her opinion, it's up to the designers, the beauty brands that sponsor the shows, and the lead stylists to pave the way for more stylists of color backstage.
MONICA SCHIPPER/GETTY IMAGES
Activist Ericka Hart (left) proudly wearing her braids backstage at the Chromat show.
"You have to make sure the person who is hiring knows that there is going to be some type of diversity. You need someone that can color, someone that can cut, someone that can braid, someone that can do locs and twists," she says. "It has to be diverse because that way you can handle all types of hair. You never know with models — there are different textures of hair and different lengths."
To Oludele, it's not just about ethnic diversity; it's about diversity in skill. "I don't want to say it's a color thing, because some white people know how to braid and some Black people don't know how to braid," she says. Even licensed cosmetologists aren't coming out of school with full and proper training. "The school I went to only taught me how to pass my state board exam," says editorial stylist 
Ashley Rubell
. "It wasn't until I started freelancing that I was able to really step outside of my comfort zone on a regular basis and have exposure to a diversity of hair types and techniques."
Rubell sought out mentors like hairstylist Lacy Redway, who works with Tracee Ellis Ross and Alicia Keys, to expand her skill set. "I absolutely think that all stylists should have knowledge with all hair types because no matter what you love to do — braids, updos, blowouts — you should be able to do that on any hair type that sits in your chair. There are so many resources out there for us to constantly learn and stay engaged with our craft," she says.
Ursula Stephen
, one of the few Black stylists who directed two shows at New York Fashion Week this season, says it's a two-way street. She says white stylists can take better initiative at learning to style Black hair. "White stylists [should] call Harlem Fashion Row [a show focused on Black designers] and say, 'Hi, I want to work. I want to learn.' You may not know how to braid, but if you come backstage, everyone is helping each other."
But Stephen would also like to see more Black stylists applying to work backstage. "Don't be afraid to work Fashion Week, to not get paid and work your ass off," Stephen says. "Don't be afraid to reach out to stylists. DM them and say, 'I'm willing to work Fashion Week.' They think they could never make it here, and it's easier than they think it is."
PIETRO D'APRANO/FILMMAGIC
Model Akiima Yong got a pastel hair makeover before the Marc Jacobs show.
Oludele agrees that it's a team effort to get more diversity backstage. "It's definitely everyone's job. As a stylist, I reach out to people when I think, 'OK I don't see anyone who looks like me in the space, how can I be a part?' When a designer wants braids in his show, I definitely think the designer should do their homework and look at who is hot in braids [to lead the backstage team]. You want everyone to say, 'Wow, that is so authentic and it looks good.'"We are entering a new era in fashion in which natural hair is celebrated on the runway and in magazines — and that's a very good thing. But embracing natural hair means recognizing the spectrum of styles that can be created with it, and to do that, we need more educated stylists. "We need more diversity… and you need stylists that understand [natural hair]," says Stephen
MONICA SCHIPPER/GETTY IMAGES
Model Diandra Forrest walking in the Texture on the Runway show
And when it's done right, you get shows like Texture on the Runway, Harlem Fashion Row, and Rihanna's Savage x Fenty presentation. These shows all highlighted the beauty and versatility of natural hair. At each show, something was actually done to the hair, giving it a specific look, from cornrows and box braids to bedazzled mohawks and pastel-colored Afros. But it should be noted that all these shows were keyed by Black hairstylists, and in the case of Fenty and HFR, those stylists were hired by Black designers. This is what the future of Fashion Week could look like if we have more people backstage who understand the complexity of Black hair.
The goal is to get these creative hair looks on Black models across the entire Fashion Month schedule. And the trickle is beginning. At Oscar de la Renta, a model walked with straight-back cornrows. At Marc Jacobs, the models with Afro hair got 
pastel dye jobs
, just like their peers. "I think a lot of the beauty in natural texture is how malleable it is. You can stretch it and shrink it and shape it so many ways!" says Rubell. "It would be nice to take the effort of 'embracing natural texture' one step further by showing its unique qualities, versatility, and all that it's capable of doing."
Source: By Jessica Cruel, https://www.refinery29.com/en-us/black-models-natural-hair-fashion-week