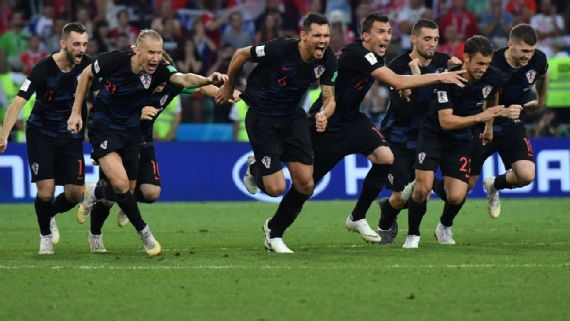 Three quick points on Russia 2-2 (after extra time, Croatia win 4-3 on penalties) Croatia in the World Cup quarterfinals on Saturday.
1. Croatia march on to World Cup semifinals
Give me Sergei Ignashevich turning back the clock and Igor Akinfeev turning away shots. Give me Domagoj Vida powering a header into the goal and then ripping off his jersey to get what will become the most welcome booking of his career. Give me Danijel Subasic cramping up and Sime Vrsaljko going down. Give me Alan Dzagoev with the pinpoint delivery and Mario Fernandes with the pinpoint header.
Give me Subasic bouncing and Dzagoev cheerleading. Give me Modric hitting Akfineev, the post, the crossbar and the back of the net on the same penalty. Give me Ivan Rakitic converting the winning penalty and sending Croatia on a journey through time back to 1998 — except this time in the semifinal, it's not the host nation France; there's no Zinedine Zidane on the horizon, but rather Gareth Southgate's England.
Give me the World Cup. Give me awesome. Give me guys who enter the pitch as warriors and exit as empty shells.
This was unscripted opera at the Fisht Olympic Stadium, the sort that moves even the comatose and exalts the woke. Nobody lost this game. It's just that one team has to advance, and that team is Croatia. Russia leave this World Cup having surpassed the rosiest of all expectations and galvanising a sport which for too long has been in the doldrums in this country. To a man, they can be proud. As for Croatia, they dare to dream.
England awaits. Croatia expects.
 Croatia's 4-2-4 an interesting choice — but at what price this victory?
Croatia set up to take this game to the opposition, ditching a traditional midfield and effectively lining up in a 4-2-4. Mandzukic and Kramaric up front, Ante Rebic and Perisic out wide and Rakitic and Modric in the middle of the park. They clearly expected a rerun of the tactics Russia used against Spain and figured there's no point in adding midfielders if the opposition is going to park the bus.
Still, it was the sort of gutsy move that you rarely see from managers — especially a guy like Zlatko Dalic, who hasn't been in the job long and doesn't have much of a resume — in a World Cup quarterfinal. Despite
going a goal down, it worked for a good chunk of the game, the key being that, against the massed defence, Rakitic and Modric took turns retreating between the centre-backs and acting as a deep-lying playmaker.
With no Russian press to speak of — other than the Golem-like Artem Dzyuba — it worked a charm. Of course, it's not a system you can play for 90 minutes, and when Russia began to push up in the second half, Dalic had to change it. We see schemes like that late in games when a team is chasing, but rarely from the beginning. Kudos to Croatia for being creative. Did it hurt them in the long run? Possibly. Late in the game, Croatia were spent. Even as the penalties began, you felt momentum shifting Russia's way. But by that point, it wasn't about physical energy. It was about what you had in your heart.
And your mind. And they had plenty.
Russia cherishes Cheryshev
Before this World Cup, casual observers, if they knew him at all, were likely familiar with Denis Cheryshev for two things. He is the son of Dmitri Cheryshev, a speedy 1990s Russian winger-turned-coach. And he single-handedly eliminated Real Madrid from the 2015-16 Spanish Cup, when Rafa Benitez — who lost his job soon after — fielded him in a cup game despite Cheryshev being ineligible, a decision which saw the Merengues thrown out of the competition.
Yet Cheryshev has left his mark on this World Cup, and his run was about as improbable as Russia's. He was only recalled to the national side in March, after an 18-month hiatus, and only started three games, but that hasn't prevented him from filling most of Russia's highlight reel this tournament.
Saturday's long-distance wonder strike came seemingly out of nowhere: a one-two, a quick acceleration and a vicious long-range effort. Four goals in a World Cup, all of them from open play, is a lot, particularly for a winger — prompting tweets such as this one.
But perhaps the broader message is that at a World Cup, (almost) anyone — even a guy who hasn't been a top-flight regular in three years — can grab the limelight.
By Gabriele Marcotti, espn.com