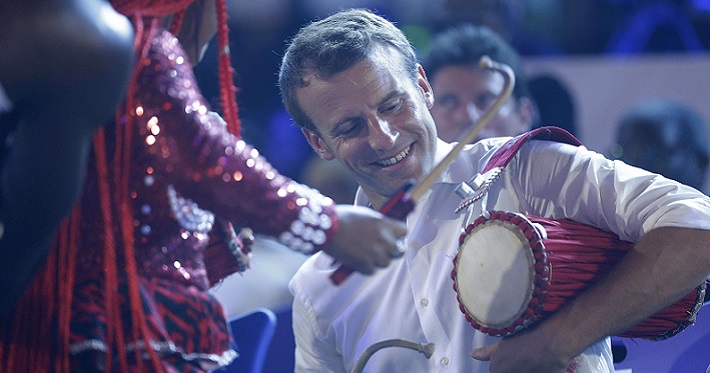 A new partnership with Africa, reframing the debate over migration as one about Africa's own development, and redefining perceptions of Africa in Europe: Macron's busy schedule in Nigeria.
Where Donald Trump has the art of the deal, French President Emmanuel Macron has the art of seduction. No talk of 'shit-hole countries' on his flying visit to Nigeria 3 & 4 July.
He piqued Lagosians interest with a triumphant entry into the New Afrikan Shrine, ground-zero for Nigeria's legendary Afrobeat sounds. Macron surrounded himself with family of the late Fela Anilakipulato-Kuti. When he went on an impromptu walkabout – to the grand chagrin of his panicked security detail – cheers went up around the Shrine.
Cheers, too, when Macron announced a year of African Culture in France in 2020, to teach Europeans about Africa, financed by African businesses, not French.
And he spoke to Lagosian pride by using their tongue: "My name na Emmanuel Macron", the president told the BBC's Pidgin Service. "Na me be di President and I dey kempe for Lagos today".
Another language Lagosians appreciate: star power. In an event studded with big names, the president opened the newly-recommissioned Alliance Francaise cultural centre surrounded by Nigerian author and activist Wole Soyinka, Senegalese singer Youssou N'Dour, and Mauritanian film-maker Abderrahmane Sissako, alongside Lagos State Governor Akinwumi Ambode. Proving the enduring interest in France of Nigeria's entrepreneurial class, the rebuild was financed by Globacom founder Mike Adenuga.
Macron also connected with young Lagos. After the crowd bath at the Shrine, the following morning he plunged into a hall filled with African entrepreneurs. On stage with UBA bank chairman Tony Elumelu, the president roamed around fielding questions from start-up founders keen to learn the success of Macron's own youthful rise. "There were people who told me, 'take your time, it will be for you, but just wait'", says Macron. "Never listen to those voices". He pulled a woman on stage to talk about her coffee company, spoke about never giving up, learning from your mistakes, taking your risks.
But beyond the Silicon Valley-style pep talk, there were other messages Macron was keen to give. On migration, he repeatedly emphasised the importance of rekindling hope and opportunity in Africa. The tragedy, he pointed out, was that it was not the poorest Africans who are migrating, but those from the middle class, with the money to finance the trip. "These are the people who you want to drive politics in your country", said Macron.
But not only that. "We have to deal with demography. When I spoke about it last year, people went crazy. It was not for a European to talk about it, though we had the same thing a hundred years ago in Europe", said Macron. "When you have 7-8 children per woman, you can have 8% growth and you will remain poor. Ask your women – if they are ok with it, then fine. If its about forced marriage, then no."
And he also said France would be willing to consider changing the CFA currency peg to the euro, saying that he expected West Africa to deepen its regional economic integration and move towards its own currency. "We want to reframe the financial architecture of West Africa", he said, in a bid to defuse the increasingly bitter debate about the common currency for West and Central African countries, which partially underwritten by the Banque de France.
Macron has good timing
The language of business is also something Lagosians are familiar with. Several deals were announced. A $76 tech fund to back start-ups. A move by French development finance institution AfD to back 70% of the risk of Nigerian start-ups funded through UBA. Roads financed in rural areas.
And French business is visible in the capital; in the last few days, giant illuminated advertising panels were erected across major thoroughfares, a collaboration between French advertising giant JCDecaux and Nigerian partner Grace Lake. Total's giant Egina platform has sat across the bay from Lagosians at the LADOL dock for the last 6 months. It will represent some $15bn in investment when it is finished. And a new Tier 4 data-centre is being built just outside the city by French electric company Schneider for Nigeria's leading hosting company, 21 Century, a first for Africa.
A new Franco – Nigeria Business Club was created with leading entrepreneurs from both countries, to ensure words get turned into action, including Sani Dangote, who heads up Dangote Group's agriculture division. And the two communities are not standing still. A deal-focused conference, Spotlight Nigeria, will bring leading Nigerian entrepreneurs and Nigerian state governments together with interested French businesses in Paris on 4-5 October.
Not for the first time, Macron has good timing. With President Trump pulling the US into retreat on the world stage, and Chancellor Merkel hamstrung at home, there are few other leaders globally who are able to articulate the need for a new partnership for Africa.
Others outside are less convinced. Kathleen Ndongmo of Cameroon tweets: "#France has not yet told you what they are getting in return. Dear #Nigeria, shine your eyes."
But a Lagosian remarked that his own president is an old man in a country of young people, while Macron is a young man in a country of old people. He asks: "Can we swap?"
By Nicholas Norbrook, theafricareport.com