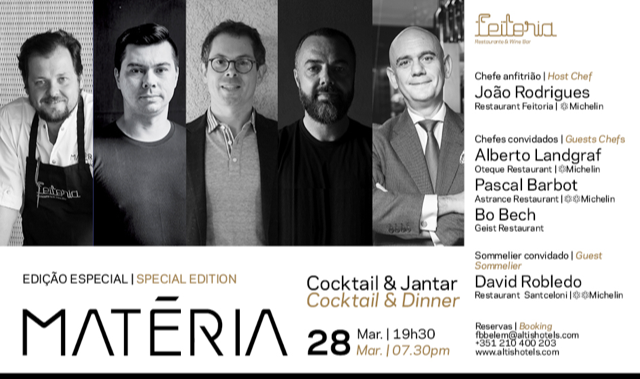 Matéria's renowned dinners will return in 2020 – and they will be more ambitious than ever. 
Four chefs and four sommeliers will come together on the evening of 28 March to showcase 
the finest international cuisine on a date which also celebrates the 11th anniversary of Feitoria, 
Altis Belém & Spa's Michelin-starred restaurant in Lisbon.
Joining host João Rodrigues are chefs Alberto Landgraf, Bo Bech and Pascal Barbot,
while sommelier and maître d' André Figuinha (recently voted Portugal's top sommelier
by the blog Mesa Marcada) will be accompanied by David Robledo (head sommelier at restaurant Santceloni (two Michelin stars) in Madrid),
Raimonds Tomson (voted top European sommelier in 2017 and third in the world in 2019, and currently at Vincents restaurant in Latvia)
and João Chambel (who has worked at Vestigius and the wine cellar Estado D'Alma).
Alberto Landgraf will arrive from restaurant Oteque (one Michelin star),
voted best contemporary restaurant in Rio de Janeiro by the magazine Veja in 2019 and 100th on The World 50 Best list.
The chef from Paraná, who combines French elegance with oriental techniques,
is a devotee of seasonality and prefers to use small producers.
Bo Bech turned Paustian (one Michelin star) into Europe's most interesting restaurant of the 2000s –
according to René Redzepi, the chef at Noma. The Dane, who calls himself "a curious human being"
above anything else, later opened Geist – an antithesis of conventional fine dining –
in the centre of Copenhagen in 2011.
Known from television and for the clean taste of his dishes, Bo Bech argues that
you can only eat well if you know exactly what you are putting in your mouth.
Pascal Barbot will join us from L'Abstrance (two Michelin stars) – 108th on The World 50 Best list –
a Parisian restaurant that is almost 20 years old and changes its menu every day.
The French chef has worked at Alain Passard's iconic L'Arpège and believes that understanding
seasonality and respecting produce are the key to creating good cuisine.
As usual at the dinners organised by Matéria, the invited chefs will visit several
national producers and apply all of this knowledge during the dinner.