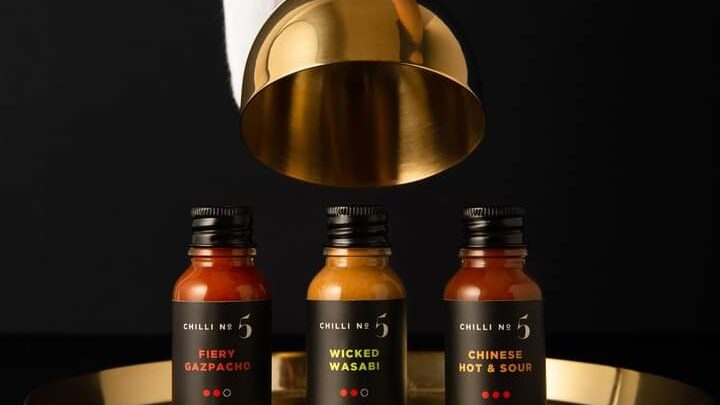 Wake up to the latest addition to the world of condiments and it is not in a plastic packet. The industry has never seen a range of sauces of this quality, with this variety in mini-size glass bottles perfect to be used as room service, in restaurants, or taken into the stratosphere to elevate 'plain' food. Chilli No. 5 is pioneering the eviction of plastic packets from the world of fast food and F&B with their extensive range of mini gourmet chilli sauces in glass bottles.
The Chilli No. 5 sauces are made from a unique blend of spices and superfoods, giving each sauce a unique flavour profile and arguably a healthy constitution. The key point about this range is that there is a sauce that pairs with almost any dish, from French to Chinese, and Jamaican to Thai. These sauces are the latest trend that can elevate home cooking, delivery foods, and your picnic. You can even steal them into restaurants to spice up your meal or onto a BA flight.N
OW FOR THE GOOD STUFF – JOURNOS REPLY TO THIS E-MAIL FOR LOTS OF HEALTHY SAMPLES.
Chilli No. 5 has just launched a large range of mini chilli sauces, all of which are vegan, kosher and gluten-free and come in recyclable glass packaging – revolutionary for the fast-food sector. Each sauce contains over 10 superfoods plus 6 health supplements including Fenugreek, Inulin, Guarana, Maca, Korean Ginseng, L-Arginine – all packed with proven health benefits. On top of these 6 superfoods, the sauces each contain different combinations of additional superfoods such as black garlic, ginger, turmeric, onion, pepper, mango, oregano, celery and 100s more depending on the flavour. They also contain the most exclusive chilli peppers on the planet.
Research shows that chillies in general are stacked with health benefits and have been proven to reduce joint pain, eliminate headaches, reduce the risk of cancer, improve heart health, and increase red blood cell production. It was argued by The Telegraph that they might even help you live longer. In addition to that, studies have also shown that chillies improve metabolism and therefore improve weight loss and healthy digestion. Lastly, chillies have been shown to improve cognitive functions and thereby reduce the risk of dementia and Alzheimers.
The combination of the naturally occurring health benefits of chilli peppers and the added superfoods and supplements in each sauce makes the Chilli No. 5 sauces one of the healthiest products on the market and something people will be happy to add to any dish.
The Chilli No. 5 kitchen is in central London in Kentish Town and is on Uber Eats and Deliveroo for immediate delivery. We can deliver across London using Stuart and are also partnered with UPS for next-day hot sauce delivery at zero carbon. All the sauces are hand-made by chefs influenced by travel to exotic locations…don't worry the UK also gets a look in with Ever So English.
"At Chilli No. 5 we are passionate about creating delicious and healthy chilli sauces" says founder and CEO Rumble Romagnoli. "Our new range of mini sauces is sure to excite chilli lovers around the world with its unique flavour profiles and added health benefits. We will not cut corners on sustainability and everything will be in glass containers with no chemicals or preservatives anywhere near."
The new range includes mini varieties for all of our Chilli No. 5 sauces including Forever Phall, Jamaican Jerk, Fiery Gazpacho, Hot Spicy Ketchup, Heavenly Harissa, Totally Thai, Ever So English, Chinese Hot & Sour, Louisiana BBQ, Mexican Fury, Spicy Sweet Chilli, Sriracha-Cha-Cha-Cha, Wicked Wasabi, Perfect Piri Piri and the Pizza Pizzazz chilli oil, as well as two of our limited editions, Devilish Dijon, Pure No. 5 and a 5g travel size version of our Gourmet Reaper Chilli Flakes.