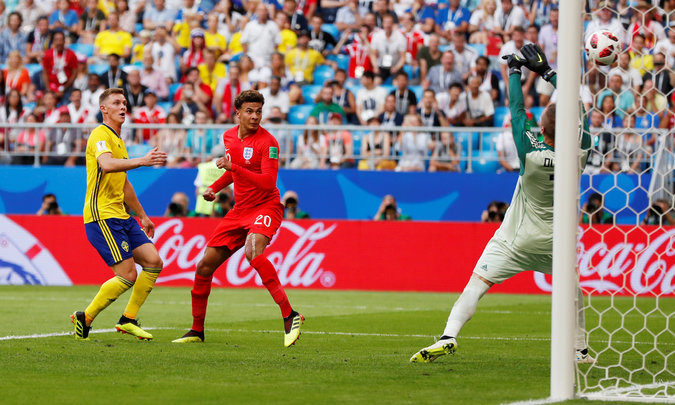 There was little here to please the aesthetes, nothing much to arouse the adrenaline junkies.
But after 90, straightforward, some might say dull, minutes of soccer on Saturday, England and its fans were awakened to this invigorating new reality: The team, young and until now unproven, is headed to its first World Cup semifinal since 1990.
All it took was two headed goals and two strong saves for England to produce a competent, uncomplicated and sometimes uncompelling 2-0 victory over Sweden. Now the second youngest team at the tournament — with an average age of 26 — is in striking distance of the final.
"We're not the finished article," England's manager, Gareth Southgate, said. "We don't have renowned world-class players yet, but we have lots of good young players who are showing on a world stage that they're prepared to be brave with the ball, try to play the right way and have showed some resilience over the last few weeks."
The England fan base in recent days has been rallying around a catch phrase — "It's coming home" — that seemed at first to be cried out with a tinge of irony. It was the product of a perspective established and hardened through years of disappointment at the World Cup; now, increasingly, the slogan appears to harbor a sense of earnest expectation.
More and more people have jumped on the bandwagon, succumbing to the team's charms.
The spiritual figurehead of the team in many ways has been Southgate, a former England player whose self-effacing enthusiasm has become central to the group's appeal. With a subtle knack for storytelling, he has done as much as any columnist to build a narrative about his players as lovable underdogs.
About their ambition to reach the final, rather than to play a third-place match after losing in the semifinals, Southgate said: "We spoke to the players today that none of us fancied going home. We've got to be here for another week, so it's up to us the games we play in."
And asked about uniting their country during a period of political division, he said: "All these players come from different parts of the country, and there will be youngsters watching at home from the areas that they come from who they'll be inspiring at this moment, and that is of course even more powerful than what we're doing with our results."
The road to the final has looked surprisingly open for England for a while now, thanks at first to an easy group stage and even more so now because of a series of fortuitous results in other games. England, with a different series of outcomes, could have faced either Brazil or Germany in the quarterfinals and Spain in the next
round.
For all the perverse joy that neutral fans may have found in seeing the fall of the tournament's traditional titans, it created the possibility for more games like the one on Saturday — a scrappy affair, with fewer dimensions. Neutral fans looking for an entertaining game here never stood a chance.
The Swedes' approach to this match wrapped a wet blanket over whatever possibility the occasion might have otherwise presented. On defense, they set up deeply and densely inside their own half, allowing England space to move outside on the wings but not much room to burrow through. The Swedes probed forward infrequently, and in straight lines.
Sweden had advanced this far by playing this way, engineering soul-sucking, if ultimately praiseworthy, victories over South Korea and Mexico in the group stage and against Switzerland in the round of 16. "I respect Sweden's style of play," Mexico's coach, Juan Carlos Osorio, had said after his team's 3-0 loss, "but I don't agree with it."
And England's goals on Saturday, one in each half, seemed to do little to get Sweden to change its approach.
The first goal came in the 30th minute, when Ashley Young floated a corner kick from the left side, spinning the ball toward the penalty
spot, where Harry Maguire rose over the back of Sweden's Emil Forsberg and thumped a header into the left corner of the goal. It was England's 10th goal of the tournament, and its eighth from a set piece.
England struck again in the 59th minute, when a looping cross from Jesse Lingard, and a lapse in defense from Sweden, released Dele Alli alone on the left post to deposit another header into the net.
"They're heavy, forceful, well-organized," Sweden's manager, Janne Andersson said of England. "It's a good football team. I believe they are perfectly able to go all the way."
Sweden's two best chances to score were denied by goalkeeper Jordan Pickford, who was named the man of the match for his efforts.
He made his first spectacular save only moments into the second half, diving at full stretch toward the left post to divert a dangerous headed shot from forward Marcus Berg. The other came moments after England's second goal, when Pickford laid himself out again, this time to his right, to bat away a low, hard shot from Viktor Claesson.
Nothing fazes me," Pickford said about the game's high stakes. "The pitch is always going to be the same lines. It's the same goal height. It's just the game of football."
In the final moments of injury time, the England fans joined together to sing "God Save the Queen," although the celebrations on the field at the whistle were relatively subdued.
Most important, England had ticked off another box, had done its job. One more victory, and the country will play for its first World Cup trophy since 1966.
Here's how England beat Sweden (Andrew Das and Victory Mather):
FULL TIME
England has done it. They've reached the semifinals of this World Cup after beating Sweden, 2-0.
90' +3: The Crowd Is Roaring
England is keeping Sweden at bay. The supporters have turned to "God Save the Queen."
90' + 1: Five More Minutes
Marcus Rashford replaces Raheem Sterling for England. Five minutes of added time to come.
90': Sweden Gets a Chance
Sweden gets a free kick off a Maguire pushing foul just outside the box. A good opportunity for a consolation goal. Augustinsson sends it way over.
88': Yellow for Maguire
A free kick by Trippier is cleared. England goal scorer Maguire picks up a yellow for coming in from behind on Guidetti. That's the first yellow of a politely played game. And now Guidetti gets a yellow, too.
That's Maguire's first yellow of the tournament, so he's safely in the semifinals if England holds on.
81': Sweden Comes Up Short
England keeper Jordan Pickford has words with Marcus Berg after a collision. Sweden does not look like scoring two goals here.
73': England Attack Fizzles
England on the break. Jesse Lingard pauses and tries to send one through for Raheem Sterling, but it's far out of reach. Missed opportunity.
The Scene in England
72': Sweden Threatens
Sweden breaks, and a near miss! John Guidetti crosses, and Emil Berg has time to stop it, turn and shoot. But again, Jordan Pickford saves. He got a hand to it and pushed it over the bar.
69': Alli Blocked
England threatens a third off the break, with Dele Alli's shot ultimately blocked. Sweden has shown little offensive invention in this game, and it will be tough for it to score twice. 35-1 say the bookmakers.
67': This Time, Maguire MissesOff a corner, the ball bounces dangerously around the Sweden box before Harry Maguire rushes in to shoot. It is as bad as his goal was good, sailing into the stratosphere.
63': Pickford Saves!
Jordan Pickford denies Viktor Claesson, who found some space and fired for the left post. Pickford dives and saves another goal for England.
Andrew Das: Nothing, it seems, is coming home for Sweden if Pickford has anything to say about it.
59': GOAL! England Leads 2-0
Dele Alli! England had six attackers, and Sweden eight defenders, but Sweden could just not get the ball cleared. After several opportunities, Lingard lofted a ball in, and Dele Alli was unmarked for a header. It felt inevitable.
Andrew Das: It may or may not be coming home. But it sure looks like England is headed to the semifinals.
57': Lingard Fires Away
Lingard's shot from outside the box is blocked. Corner for England. Sweden is not getting much going.
55': Danger From England
Maguire gets his head on a free kick and crosses to Raheem Sterling, who executes a diving kick back to Maguire, who heads it over toward Sterling again. The ball went by goal three times there, but Sweden finally clears.
Andrew Das: Raise your hand if you woke up today thinking England's most dangerous weapon would be Harry Maguire's forehead.
Put your hands down, you liars.
52': Forsberg Misses
Emil Forsberg tries a curling shot from almost at the sideline. It goes over. Forsberg has one goal at the Cup on 16 shots.
51': Toivonen Tumbles
Ola Toivonen briefly gets the ball in what seems to be a promising position in England's half. But four England players are there, and he is dispossessed. The perils of playing from behind.
48': Sweden Dangerous, but Denied
Sweden starts brightly: Augustinsson crosses to Berg, and his
leaping header is saved by Pickford with a diving punch.
Andrew Das: Pickford, who saved England against Colombia, has now saved them against Sweden too. That was a super chance, but he got down quickly, diving left to knock it away. Only 24, he's really impressed in this tournament.
The Numbers
England lived up to its favoritism in the first half: 5 shots to Sweden's 1, more passes and better accuracy. England also had three corners to Sweden's zero, and one of them led to the goal.
Halftime: England 1, Sweden 0
England ends the half by bombarding the Sweden box with crosses and corners. Sweden's defense is able to stop them, but it looks a lot more like 2-0 than 1-1 at the moment.
Andrew Das: Quite a bit of fireworks right there before the half, with England pressing a couple of times. That may change the impression of what was largely a dreary 45 minutes, but England will take it: up by 1-0, and seeing the semifinals on the horizon.
45': Sterling Keeps Running
Raheem Sterling races onto a long pass in the box and gets a controlling touch. But a double team robs him of the ball. And then it happens again and he gets off the shot with Olsen getting down to save.
Andrew Das: O.K., Sterling was on there but … what was he doing? After the goalkeeper's touch on the ball, Sterling recovered it but couldn't seem to decide what to do next. He had Kane and another teammate but, after buying time, hauled off and shot. "Um,
Raheem," they both say. "Did you not see us here?"
44': Offside
Jesse Lingard finds a sprinting Raheem Sterling and for a brief moment, England looks to have a great chance. But he's clearly offside.
Andrew Das: Not sure what the linesman saw there: Sterling was a mile offside.
43': Sweden Makes Pickford Work
Emil Forsberg gets off a bouncy cross/shot, but it doesn't have a lot on it, and it's an easy save for Jordan Pickford.
41': England Counters
Sterling with a dangerous cross, right on the endline. Lingard arrives to try to score, but Granqvist does a nice job to get in the way, avoiding a hand ball or penalty.
38': Sweden Runs
A little counterattack for Sweden tries to find Ola Toivonen, but it's just out of reach. Kyle Walker scurries to keep it in play and start an England counter.
35': England Keeps Probing
Another cross into the box for England. This time, Kieran Trippier sends one in, but Sweden is there to clean it up.
32': Sweden Will Now Have to Attack
England had been the dominant team (150 completed passes to 98) but had not been able to get anything going in the last third of the field. Maguire's header changed that, and Sweden will have to improve its own offensive efforts.
30': GOAL! England Scores!
Ashley Young takes a corner and sends it in. Harry Maguire jumped the highest. His header is true and England goes ahead.
Andrew Das: England's focus on set pieces pays off again there. It's been an area they've thought they could exploit all tournament, especially in the V.A.R. age. But that one would have been good anytime — an old-school goal where Maguire just beat his man and took it.
26': Sweden Locking It Down
Jordan Henderson loses the ball on Sweden's side, gets it back and then loses it again. Sweden's defense is impressive.
25': Trippier Makes Olsen Work
England getting the better of the play. A shot from a good position by Trippier draws a save by Robin Olsen.
23': No Space for Sterling
Raheem Sterling dribbles around trying to create some space but
rifles it into a defender's midsection. England wants a hand ball, but it's not there.
20': England Pushing Now
England comes right back and gets into a dangerous spot. Ashley Young sends a cross into the box, but Sweden is there to dispose of it.
Andrew Das: Not a lot to stir the imagination in this one so far, though as highlights go, England ripping a shot safely wide counts for something.
19': Kane … Almost!
Raheem Sterling of England goes on a long run, the best of the game. Approaching the penalty box, Kane picks up the ball and sends off a low rocket, which goes just wide.
14': Sweden Misses a Chance
Viktor Claesson has a little open space and decides to let one fly, but it's over the bar. A better shot there would've been trouble for England's keeper Jordan Pickford.
Andrew Das: Gotta be honest: Fifteen minutes in and this game has all the action of an English league game with everyone but the English and the Swedes removed. And I'm not sure any of us would sit down to watch that game.
11': England Shoots First
England's Kyle Walker tries a long-range chip, but it's right to keeper Robin Olsen. Still, it was a shot.
10': Sloppy So Far
Kane tries to lead Sterling with a pass, but it's a little too far in front of him. This game so far lacks the crispness of yesterday's Brazil-Belgium thriller.
Andrew Das: I hope everyone is enjoying their loooong look at the midfield circle in Samara. Feels like it hasn't been out of frame yet.
5': No Chances Yet
A lot of midfield passing and some bad through balls has added up to nothing at all like a chance so far for either side.
Andrew Das: Cagey start for both sides in the first few minutes, as one would expect. You can't necessarily win the game early, but you can do something dumb to lose it.
3': Sweden Holds
Sweden's defense looks stingy already. Jordan Henderson sends in a nice lofted ball, but Sweden deals with it easily.
Kickoff!
England in red, Sweden in bright yellow. Which team will break its 20-year-plus semifinal drought?
England's backup striker Jamie Vardy, who has been nursing a groin injury, is on the bench in sweatpants. So don't expect to see him today.
By ANDREW KEH, nytimes.com