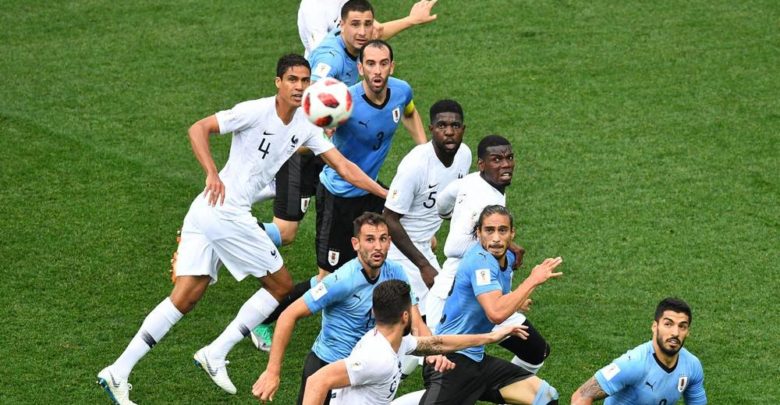 If Didier Deschamps' crew do go on to win this World Cup (and they are two games away from doing so) perhaps they'll be a fitting reflection of contemporary football, just as "black, blanc et beur" side that won it 20 years ago reflected modern France at the time.
Friday's 2-0 win over Uruguay saw France — not everyone mind, but we're talking the team as a whole — generally rewarded for being more talented rather than necessarily playing to their potential. As in previous games, they did it without breaking much of a sweat or giving you the impression that they were pushing the limits of what they could do. It all felt a bit blase, a bit millennial, a bit roll-of-the-eyes "I can't believe I need to actually take this test when I do this stuff already."
Take it any way you will. Maybe this is part of Deschamps' master plan: start slow, roll through the group, conserve energy and get stronger as the tournament progresses, making sure you peak at the right time. Or maybe he's just a guy with the deepest, most gifted squad in the tournament who, thus far, has gotten all the breaks.
It was evident from kickoff. Look at who lined up behind Olivier Giroud. You have the second-most expensive player in history (Kylian Mbappe), the most expensive player in the history of Manchester United (Paul Pogba) and the most expensive player in the history of Bayern Munich (Corentin Tolisso)… and those two teams named only happen to be two of the richest clubs in the world. Then you have the guy who (if he didn't have a buy-out clause and had chosen to move) would have been the most expensive player in the history of Barcelona (Antoine Griezmann), as well as the guy who was player of the year in the Premier League two years ago (N'Golo Kante).
Put together as a unit, this ought to be the sort of group that road-grades the opposition. Even rolling over big, flinty, sharp boulders like Diego Godin and Jose Gimenez. And yet, we saw very little of it. In fact, if you're a believer in expected goals, France created virtually nothing.
"We have margins for improvement, certainly," said Deschamps after the match. "But we already improved a lot since the Argentina game. And that was already good."
Maybe so. But the difference between the sides was Raphael Varane's glancing first-half header and Fernando Muslera getting Vaseline hands off Antoine Griezmann's tame effort in the second half. (By the way, the Atleti star explained that he didn't celebrate because of his "love of Uruguayan culture" and his "many Uruguayan friends." He could have added that celebrating a goal marked by a blunder of that magnitude is rather unbecoming for a millennial unless it's a match-winner.)
This is a team that leaves you wanting more and then scratching your head when it doesn't come. With so much firepower, you expect if not goals, then at least plenty of chance creation and maybe some sparkle.
That said, consider the sort of game France's three most attacking players had. Mbappe was all set to build on his stellar performance against Argentina and really make this World Cup his own. Yet there are two bits that stand out from his performance. One came after 15 minutes, when Giroud headed the ball back across the box and he found himself all alone, with the closest defenders a good five or six yards away: in "Mbappe-time," that's an eternity. You expected him to volley it past Muslera or, if he wasn't quite confident enough, to take a touch (either chest or foot) and then fire it home. Instead, he attempted a weird, uncoordinated header that looped not just over Muslera but the cross bar, too.
The other was uglier still, at least judging from the replays. Cristian "Cebolla" Rodriguez may or may not have struck him in the midsection but the collapsing-house-of-cards reaction looked like an attempt to emulate the worst of Neymar. It was distinctly unlike Mbappe. Blame it on youth and inexperience and move on.
Under Deschamps and his 4-2-3-1, Pogba is mostly confined to the midfield hard-hat role alongside Kante and we only saw him on the ball intermittently. With Tolisso (not exactly a natural winger) out wide, the idea was that the United man could get forward and Tolisso would slot inside to help out. The latter happened, the former did not. Against a midfield of Rodrigo Bentancur, Lucas Torreira and Matias Vecino — no disrespect — it was probably overkill.
Then there was Griezmann. Yes, he assisted quite brilliantly on the Varane goal but the second was a gift from Muslera, which is why we didn't get to see the Fortnite celebration. Other than that, there was a lot of goodwill and ferreting away but the chemistry with Giroud, though improving, still didn't yield chances.
This is where you're left to wonder if it's the players or the manager because when asked about it post-match, Deschamps kept going back to the same theme: how well France controlled the game and how solid they were defensively.
"We didn't want to give them any opportunity and apart from the great save from [Hugo] Lloris, we did exactly that, denying them any dangerous chances," he said, perhaps referring to Hugo Lloris' feline deflection of Martin Caceres' header. "We were never under pressure, and I am so happy with the control we had."
Maybe it's a question of priorities. Deschamps is a fundamentally conservative manager, which is fine. But given what he has at his disposal, he's a bit like the guy who buys the world's most sophisticated iPhone and then uses it as a coaster for his hot chocolate with marshmallows.
Beyond that, if you're going to play some sort of mega-shutdown, grind-it-out Catenaccio style, which probably isn't the right strategy with this side anyway, then it needs to be better than this. That means counterattacking effectively when you win the ball back, which France did not do — in fact, the Griezmann goal came at the end of a four-on-three counter where the movement was so flawed he had no choice but to shoot from far outside the box — getting your big striker to hold the ball up so the defenders could push on (which Giroud managed only in part) and keeping your cool at all times (the Mbappe-Rodriguez melee could well have resulted in Pogba getting booked and that would have meant a semifinal ban).
"OK, so we didn't play the perfect match," Deschamps insisted. "You can always improve…"
That's the single most encouraging part for France fans. They are in a World Cup semifinal without breaking second gear and can easily take their game several levels beyond this. The execution may not be great, but the balance is there. So it's a question of riding out and continue doing just enough to clear the bar. As it gets higher, you jump higher: why bother jumping your highest if you don't need to?
The question is whether, in a game of such fine margins, Deschamps can continue to get them to clear the bar every time. Right now, it requires a major leap of faith to believe that he can.
By Gabriele Marcotti, www.espn.co.uk/