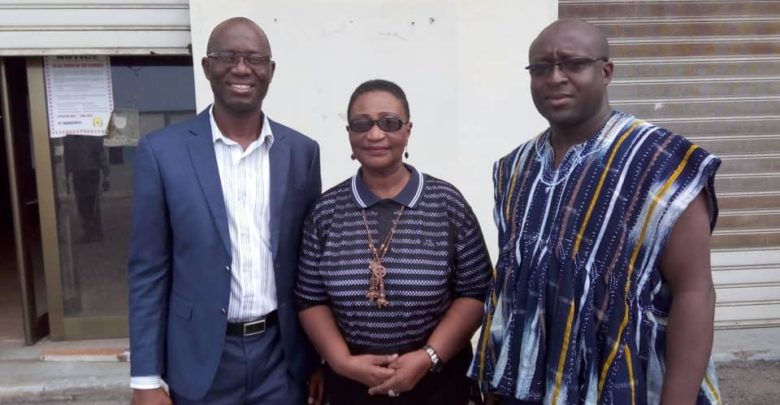 By Sammy Heywood Okine
Madam Gloria Commodore, Executive Director of the Women In Sports Association (WISA) in Ghana on Tuesday met the top hierarchy of the National Sports Authority (NSA) at the Accra Sports Stadium to invite them to this year's Awards slated for September 2018.
Madam Commodore who is a veteran journalist said she loves and appreciates what the female sports women have been doing, and have taken upon herself to honour outstanding athletes who deserve awards.
She said the women of Ghana have done much in the sporting sector and want the government to know.
She said government alone cannot do everything, and that is why WISA has come in to help.
She thanked cosmetics giants, Ghandour Ghana Ltd for accepting to sponsor the 2018 WISA Awards and appealed to other companies to support women in sports.
Madam Commodore had a lengthy chat with Madam Phillipina Frimpong before meeting the Acting Director General, Mr. Bawa Mohammed and a board member of the NSA.
Their discussions centered around Women in Sports and the roles both parties can play to support girls, the youth and elderly sports women.
Madam Commodore later met some members of the Ghana Police Handball team, and advised them to take sports serious as they do not know that their discipline is being monitored.
This year WISA is rewarding 26 individuals for their roles in sports development. They include administrators, technical people, journalists, sports women and a popular sport supporter.
The media launch comes off on August 29 with the main event on September 29.