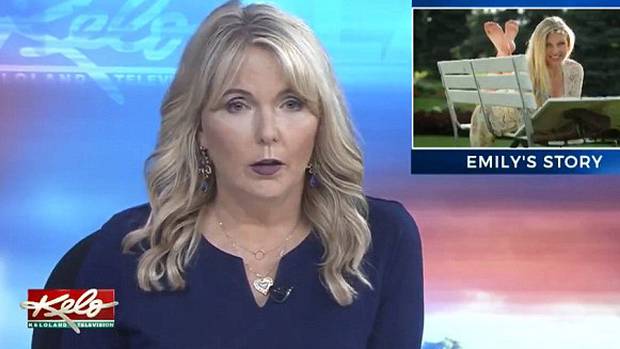 A news anchor has reported on her own daughter's deadly drug overdose in a desperate plea to end the opioid crisis.
South Dakota journalist Angela Kennecke, 52, took to the air on CBS affiliate KELO-TV, where she has worked for 29 years, last week to share details of her daughter Emily's death in May.
Staring solemnly into the camera, she began her broadcast: "We have brought you many reports on the opioid crisis but now, the opioid epidemic has hit home in a tragic and devastating way for me personally," the Daily Mail reported."On May 16, my 21-year-old daughter Emily died of an overdose. Her official cause of death was fentanyl poisoning."
    Kennecke, seen with Emily, said: 'The loss of a child especially in this sudden and shocking way has turned my world upside down.' Photo / Supplied
Kennecke, who has two other children and a stepson, went on: "The loss of a child especially in this sudden and shocking way has turned my world upside down.
"I never intended a member of my family to become part of the statistic you hear on the evening news. Nobody does. There is no recovery for me or my family of the loss our our talented, smart, beautiful daughter Emily.
"Instead, I am forced to move forward and my only choice now is how I do that.
"My choice, even at great personal risk, is to share my daughter's story with all of you."
Emily, who was an artist, was found dead from a fentanyl overdose on May 18. Her mother had planned an intervention for three days later.
Speaking last week, Kennecke said she never suspected her daughter was abusing opioids but said she had become aware that she was experimenting with drugs.
"It was soon pretty evident that the whole drug culture was attractive to her. I was really concerned as a mom.
"We would see Em quite a lot, she wasn't living with us – she was 21 years old – but the more time I spent around her before her death the more alarm bells went off in my head," she said.
The family hired an interventionist and had arranged to get Emily into rehab on May 20 but she died before they could ever seek professional help for her.
  Kennecke said it was obvious from 'early on' that her daughter found drugs 'attractive'. Photo / Supplied
"We didn't get that chance. We didn't get a chance to get her into real treatment. Real help," she said.
Kennecke was stunned when she discovered the depths of her daughter's addiction, which also involved her using heroin.
"When I found out what she had been doing, the cause. It was unbelievable to me. The fact that my daughter would be using heroin and needles.
"My beautiful daughter who was very privileged, had every opportunity in life to have a great life had gone down this road. It was shocking to me," she said.
The pathologist said Emily had more then six times the recommended medical amount of fentanyl which would be required for an adult male.
"She was just a small young woman. She didn't stand a chance. That fentanyl killed her almost instantly when she injected it," her mother said.
Kennecke said she had decided to speak out about her experience because it could happen to "any family".
"It's best if I just tell my story and let everyone out there know what happened to my daughter because I believe it could happen to anyone's daughter," she said.
Her goal is to destigmatise addiction to make it easier for families to cope with and to find "better, more affordable ways" for young people to seek treatment if they find themselves in the grips of it.
"The reason I am doing this is that my only hope in the face of such devastating loss is that Emily's story, my family's personal tragedy, can be a catalyst for change.
"If 72,000 people were dying a year from any other cause, we would be uniting to end the suffering of so many families, so many mothers," she said.
Kennecke has launched a fund in her daughter's name to help people pay for the cost of treatment. It is called Emily's Hope and can be accessed through this link.
"I want her life and tragic death to at least give someone else hope.
"By telling Emiy's story and my story of loss and pain and suffering, I am opening myself up – I am being vulnerable to our audience in a way that I've never been before.
"It's super important I do that because if just one person hears me, if just one person does one thing to save a life, then I don't care about a million naysayers or a million people who don't understand.
"I just care about that one mother I can stop from experiencing the pain that I have," she said.
She added: "She engaged in risky behavior but she didn't deserve to die. She was only 21."
The journalist said there was no way for her to describe the loss she and her family suffered with Emily's death and that the "permanency" of it was devastating.
"Her chair sits empty at the kitchen table. That's when it really hurts when I look across and she's not there and she's never coming back.
"It's the permanency of it. I was robbed of my daughter. I was simply robbed.
"I consider myself a wordsmith, I write for a living every day, but there are no words to describe the devastation I feel at the loss of my daughter.
"There is nothing that can even come close to describe the grief and the sorrow and the pain.
"And all of the loss of what she could have been and what if. As a mom, I have a hole in my heat that will always be there. It is never going to heal.
"I have other children whom I love and a husband whom I love and other family whom I love, but nobody and nothing can replace the loss of my oldest child."
Before returning to work last Wednesday, the mother took to Facebook to describe the decision as the "hardest thing" she had ever done in her career.
www.nzherald.co.nz