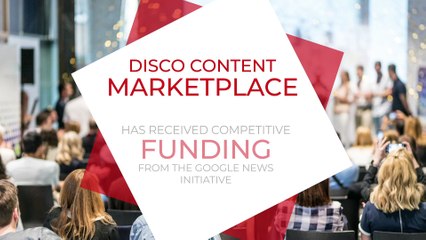 Al Bawaba Group has received a funding award from Google News Initiative (GNI) Innovation Challenge, a regional and global initiative to "help journalism thrive in the digital age."
Drawn from a competitive pool of applicants from across the Middle East, the funding award reflects years of in-house development on DISCO, which is an innovative and revolutionary digital content marketplace and database platform, aimed at editors, producers, creatives, media monitoring organisations and information professionals, who need access to multi-lingual licensed content for re-use, research, or internal news gathering.
DISCO, which fully launched in March 2020, is now embarking on a cutting-edge project to enhance the semantic search, filtration and automation of its Arabic language content offering on the Google Cloud platform.
Hani Jabsheh, group CEO, remarked "Al Bawaba Group exists at an intersection of digital journalism and digital technology. The Google News Initiative award is a vindication of our licensing, publishing and development strategy, and the hard work that has gone into building a platform as ambitious as DISCO. Despite the challenges of COVID-19, we are entering our twentieth anniversary with focus and innovation."
Having worked on the DISCO concept and platform from the outset, Mark Gatty Saunt, Director of Content Sales & Licensing, believes the award is an important milestone, who commented, "DISCO offers its users access to 6,500+ licensed content products and sources, along with multiple buying and licensing models to suit users' needs, plus seamless API integrations. The platform is already attracting a diverse array of clients from within the Middle East and elsewhere around the world and this GNI award is the icing on the cake, allowing us to better demonstrate the platform's technical sophistication."
Entitled 'Why Can't Machines Read Arabic," the GNI application proposal was composed by John Lillywhite in the capacity of Digital Transition Lead. "By using the latest techniques in machine learning and artificial intelligence on the google cloud, terabytes of DISCO's Arabic content will be made more searchable, more automated and more commercial. The GNI project is an exciting part of a broader mission to transition into the digital economy of the future."
The DISCO GNI project involves creating a 'trained artificial intelligence' on the google cloud capable of filtering, tagging and semantically 'understanding' Arabic datasets with much higher fidelity. DISCO is delighted to be partnering with CONVZ Customer and Marketing Analytics, to retrofit their existing work with big data in the e-commerce industry for the requirements of the digital publishing sector.
Founder of CONVZ, Alessandro Casuccio concludes with, "We are very excited to work with Al Bawaba Group on this unique project facilitated by Google. We can't wait to leverage our Analytics and Business intelligence capabilities to widen the reach to one of the largest repositories of Arabic articles and publishing works!"
According to GNI Recipients Manager Sarah Hartley, Google "launched the Middle East, Turkey and Africa Innovation Challenge last June, and received 527 applications from 35 countries. After a rigorous review, a round of interviews and a final jury selection process, we selected 21 projects from 13 countries to receive $1.93 million in funding."