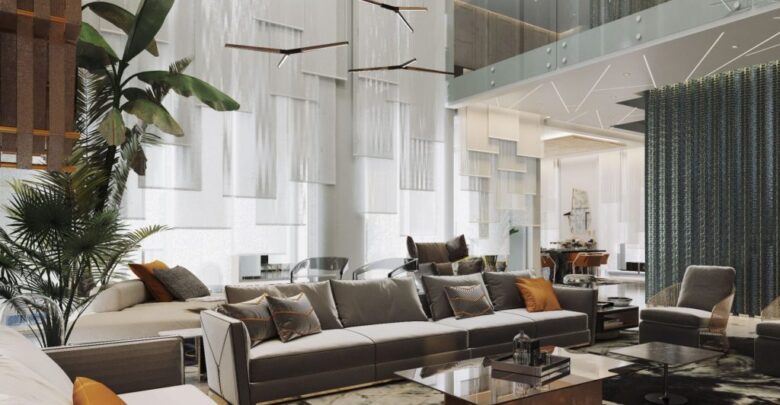 Riling up the global interior design scene and coming out of North Africa's Nigeria, is Iroko Interior Design. Recently scooping the prestigious Best Luxury Interior Design Studio in Nigeria 2021, by the New York based Luxury Lifestyle Awards. Unprecedented rave reviews and striking design performance emanated from this rising establishment, underpinning this significant accolade.
Iroko Interior Design Studio provides award-winning interior and architectural services satisfying the needs of their clientele. Their quality workmanship is one of the stand-out features that Iroko Interior Designs are lauded for. They provide a full suite of interior design services, including color consulting, furniture selection, architectural and interior design. Not limited to home solutions, they offer residential, commercial and institutional clients quality interior design services at competitive prices.
Spearheaded by Ayanda Carter, who was born in South Africa, grew up in Mozambique, but certainly Nigerian in spirit. Ayanda has blazed a trail behind her through the last decade, somewhat of a designer genius. Her design philosophy rests on her firm belief that a designers role is to physically express their clients innermost vision – bringing thoughts, idea's and dreams to life. Naturally, being a woman in a male-dominated industry, she hopes to ignite the ambition and confidence of women across the world, encouraging them to believe in themselves and their capabilities. Ayanda remains a powerful source of inspiration to many.
Iroko Interior Design displays a magnificent portfolio of work across government, corporate and residential projects, geographically spanning America, The United Kingdom, South Africa, Nigeria and Ethiopia. Their core speciality is in bespoke designs and developing turnkey residential and commercial projects. Currently under construction, and gaining much attention, is the Tree House restaurant located in the Abuja Central Park development. Uniquely designed wooden flooring and wall paneling, strategically placed mirrors, back lighting, vertical indoor wall garden and buffalo leather seating cradling the paneled walls come together in creating a sensational space. It's an invigorating and inspiring fusion between the park attributes and the extraordinary dining experience.
The award-winning design house employ a 3-step approach to future projects:
1. Conceptual Design
A core focus is to create the most desirable buildings and spaces on the globe. With this high aim in mind, vigorous conceptual creativity and solutions are vital to the overall outcome. This is where Iroko shines.
2. Technical Data
They offer complete services to complement the architectural concept for each project. Iroko takes care of all the details, ensuring that each project is totally harmonized to the highest levels of quality and detail.
3. 3D Visualisation
Iroko Interior Design Studio is one of the most sought-after and experienced firms in Lagos and throughout the country. They provide master plans that attract people, inspire investment, and increase activity alongside working with clients and communities to promote economic development and community growth.
The goal of Iroko is to provide customers with premium quality interior design and home remodeling services at affordable prices. They deliver on this promise by listening to their clients' needs, solving problems creatively and practically, ensuring each project goes off without a hitch.
If you're looking to develop something extraordinary, consider Iroko Interior Design to take you there.