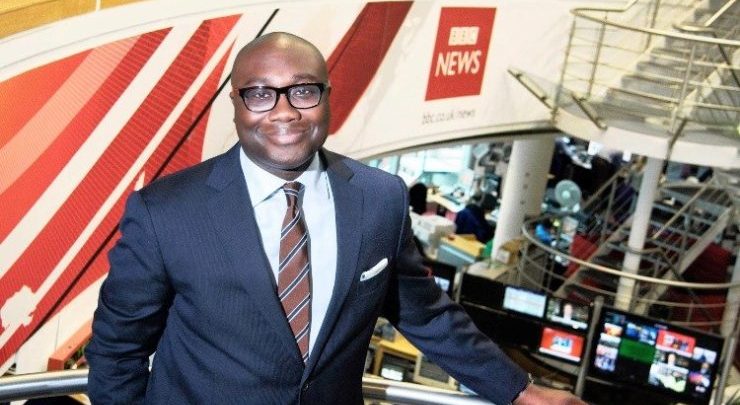 Now in its sixth year, the BBC has begun its search for the next BBC World News Komla Dumor Award winner, and journalists across Africa are encouraged to apply.
The award, which aims to uncover some of the continent's rising stars in journalism, was set up to honour the memory of Komla Dumor, an exceptional Ghanaian broadcaster who died unexpectedly at the age of 41 in 2014. Known for his commitment and ability to tell stories from across Africa, Komla worked tirelessly to bring a more sophisticated African narrative to the world, and the BBC is committed to continuing his legacy by empowering a new generation of journalists from the continent.
Previous winners of the BBC World News Komla Dumor Award are:
2015: Nancy Kacungira who worked as a prime time news presenter for KTN in Kenya
2016: Didi Akinyelure, a Nigerian journalist who started out as an investment banker before becoming a presenter on CNBC Africa
2017: Amina Yuguda, a Nigerian journalist who worked as a presenter for GoTel in Yola, Nigeria
2018: Waihiga Mwaura, a Kenyan journalist who worked as a television presenter for Citizen TV
2019: Solomon Serwanjja, a Ugandan journalist who worked as a presenter for NBS TV
All of the previous winners have used their time at the BBC to hone their journalism skills through training, workshops and mentorship. By working closely with leading talent across BBC News, the winners undertake a final project, culminating in them travelling to Africa to report on a story in a different country to their own which they have researched.
2019 winner, Solomon Serwanjja, said: "Winning this award has meant so much to me, both professionally and personally. To be able to work amongst Komla's peers, to be able to change the narrative about Africa on a global platform by telling the continent's stories from a different angle, is a huge honour. I have taken these learnings back to my role in Uganda and hope to continue Komla's legacy, telling African stories to local, regional and global audiences with both passion and integrity."
Solomon will take part in a launch event for the 2020 prize in Johannesburg, South Africa. He will host a panel debate programme for Focus on Africa radio on BBC World Service. The debate will look at the future of African power and whether it can fuel its growing economies without accelerating climate change.
As part of the launch, BBC News will also visit major South African universities, including North West University in Mafikeng, The University of Cape Town in the Western Cape Province, and both the University of Pretoria and the University of Johannesburg in Gauteng. These visits aim to introduce budding journalists to the work of Komla Dumor and inspire them to strive to one day put themselves forward for this significant award.
Director of the BBC World Service Group, Jamie Angus, said: "I'm incredibly proud of all the journalists that have come through the BBC World News Komla Dumor Award, as each one continues Komla's legacy in contextualising African stories for global audiences. Every year, I look forward to welcoming the next winner, to hear their insights from the continent and to share with them the key values of trust and impartiality that are synonymous with the BBC – principles which are vital to global democracy.
Now open for applications, entrants have until 23.59 GMT on 16 March 2020 to submit. The winner will spend three months at the BBC headquarters in New Broadcasting House in London, gaining key skills and experience.
The  BBC  attracts  a  weekly  global  audience  of  346  million  people  to  its  international  news  services  including  BBC  World  Service,  BBC  World  News  television  channel  and  bbc.com/news
BBC World News and BBC.com, the BBC's commercially funded international 24-hour English news platforms, are owned and operated by BBC Global News. BBC World News television is available in more than 200 countries and territories worldwide, and over 465 million households and 3 million hotel rooms. The channel is also available on over 180 cruise ships, 53 airlines, including 13 distributing the channel live inflight. BBC.com offers up-to-the-minute international news, in-depth analysis and features, including BBC Worklife, BBC Culture, BBC Future, BBC  and BBC Reel, for PCs, tablets and mobile devices to more than 110 million unique browsers each month.
BBC  World  Service  delivers  news  content  around  the  world  in  English  and  41  other  language  services,  on  radio,  TV  and  digital,  reaching  a  weekly  audience  of  269  million.    As  part  of  BBC  World  Service,  BBC  Learning  English  teaches  English  to  global  audiences.    For more information, visit http://bbc.com/worldservice