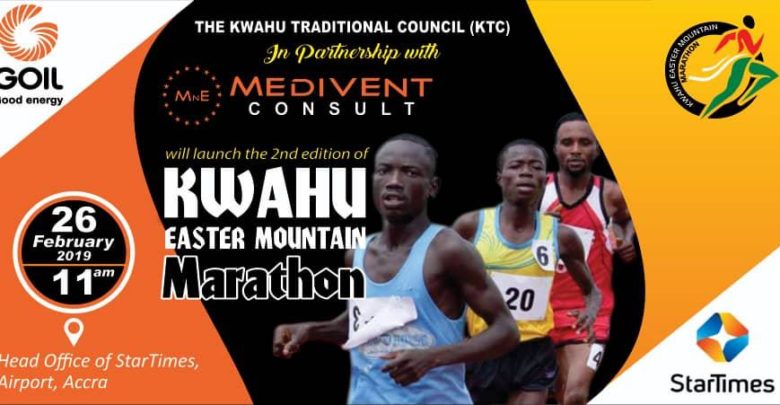 By Sammy Heywood Okine
The 2019 (second) edition of the annual Kwahu Easter Marathon has been launched at the Startimes Ghana head office in Accra, Ghana by his royal highness, Nana Obeng Akrofi Darte I, Mpraeso Baamuhene of Kwahu Traditional Council (KTC),
According to Nana Darte l, the Marathon has come to stay, after seeking new ways of making the Easter celebrations on the mountain more exciting.
Nana Obeng Akrofi Darte I announced mouth watering prices for the winners. He said the top 10 finishers will receive a price of 20,000 Ghana Cedis. The top 2 finishers in the male category and the winner in the female category will also qualify to participate in international marathons in September and October of 2019.
He appealed to corperate Ghana to support such sporting events since the help develops the talents of our nation.
William Ezah, chief organiser and Project Manager of Medivent Consult as well as General Secretary of the SWAG said the Kwahu Marathon is more special done other marathons in Ghana because it's going to take place in a cooler climate compared to those which happen in Accra. Athletes are assured of cool weather when they travel to the mountainous city to compete.
"The aim of the marathon is to unearthed and expose more long distance runners for the country to be represented well when it comes to international athletics" he said.
Mr. George Lomotey, Director of Television of StarTimes, in his remarks, said this year's marathon would be televised on Adepa TV and millions would have the chance to witness the event.
He said they were happy to partner Medivent Consult and Kwahu Traditional Council (KTC) in the successfully organisation of the program.
Over 1000 athletes are expected to compete in this 42.2 kilometer marathon with three winners in both the male and female categories having the chance to compete in the Bejing Marathon
Abraham Nkansah aka Apirigu Chakapama, President of Die Hard Supporters pledged his support for the event and promised that some of his members will participate as well as cheer the runners on the day.
Goil, Mobisoko and StarTimes Ghana are the main sponsors for the 2019 Kwahu Easter Marathon.