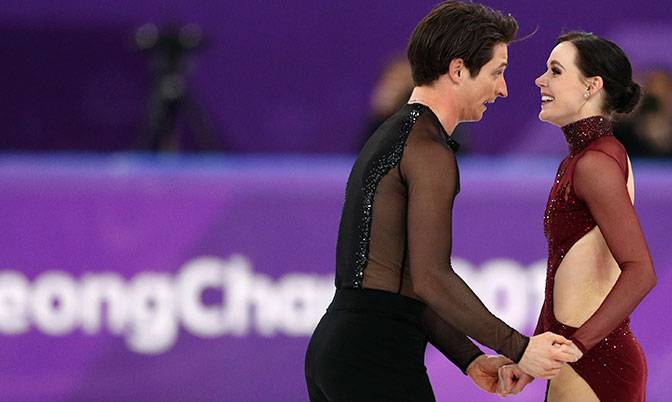 After delivering a jaw-dropping, achingly sexy gold-medal performance at the Pyeongchang Olympic Games, Canadian figure-skating duo Tessa Virtue and Scott Moir have successfully captured the hearts of the world.
The couple, more well-known to Canadians, has been somewhat of an enigma to the international world at large. People want to know if Virtue and Moir are a couple, and when they discover they're not, they can't wrap their heads around the fact that the pair has been skating together for more than 20 years. How on Earth can two people deliver that much chemistry when they're not head-over-heels in love?Performing to Moulin Rouge on Monday night, the pair captured the gold medal in front of a roaring crowd at the Gangneung Ice Arena with a total score of 206.07.
Tuesday's medal for the three-time world champions makes it the third for the pair. Virtue and Moir are tied with Gillis Grafström of Sweden, Sonja Henie of Norway and Russia's Irina Rodnina for the most gold medals in Olympic figure skating history.
Now with five medals to their name, Virtue, 28, and Moir, 30, are the most decorated figure skaters in Olympic history, a tremendous feat.
Actor Leslie Jones, who's also an unofficial Olympics correspondent for NBC, couldn't get enough of Virtue and Moir. Her words captured what the world was feeling during their performance.
Later on, Jones and American figure skater Adam Rippon had an uproarious discussion about the Canadians' performance.
"Are they getting in trouble for how sexy they are?" the pair quipped.The majority of Canadians who follow the sport are aware that Moir and Virtue are not dating, but haven't officially addressed the question. The W Network docuseries Tessa & Scott, which aired in 2014 in Canada only, was an intimate look into the pair's lives after they captured gold in the 2010 Vancouver Olympics and made their way to Sochi for the 2014 games.
It's no surprise that there are many "shippers" of Virtue and Moir, even four years ago when the show was originally airing. It's safe to assume that number has skyrocketed after their performances at the Pyeongchang games.
Virtue said on Tessa & Scott that the skaters' relationship is "complicated," not like husband and wife, not like dating, not like siblings, but something else altogether.
The pair started skating together in 1997 after being paired by Moir's aunt, who happened to be coaching them at the time.
While many of us are used to seeing Moir and Virtue as a pair only, the skating champions have made it clear they do lead distinctly separate lives away from one another. During the filming of Tessa & Scott, for example, Moir's then-girlfriend Cassandra made multiple appearances on the show (it's not immediately clear if the pair is still dating).
"It does get a little bit annoying, for sure," said Scott in 2014 about the public's perception of he and Virtue for a podcast interview. "It's just funny [to us]. But that's society nowadays; they want to be involved and I guess we have to take that as interest and that people care about our story, and take pride in that. As imposing as it sometimes is on your personal lives, I really do think it's just people caring."
Virtue agreed with Moir's assessment, adding, "I think people feel like they've been part of our journey, which is really special and we're really grateful for that support."
Whatever the relationship between the pair, it's clear that their strength is buoyed by their lengthy time at each other's sides.
"We've gone through the tough times, and there are times when we have what people may call a fight, but we've never name-called, we just never went down that path," said Moir for the podcast interview. "We've always been each other's biggest fans, so there was always that level of respect, and our relationship in the end is what we relied on. Our longevity is what made us champions."
Moir said that Tuesday's gold medal is a little different than winning in Vancouver.
"Obviously, 2010 we were in our own country," he said. "Those are moments we will never forget. But eight years later we're completely different people, we're completely different athletes. We still love what we do. It's personal this time. It was for each other, we skated with each other in mind the whole way and we skated with our hearts. It's extremely fulfilling."
Virtue and Moir, Canada's flag-bearers for the opening ceremony, are set to retire from the sport now that the games are over for them — but that hasn't been solidly confirmed. Even the mere mention of their retirement is enough to cause the simultaneous heartbreak of fans across the world.
By Chris Jancelewicz, Glabal News