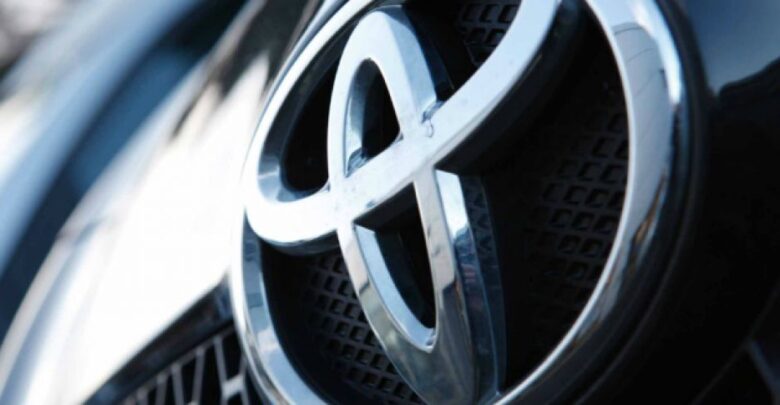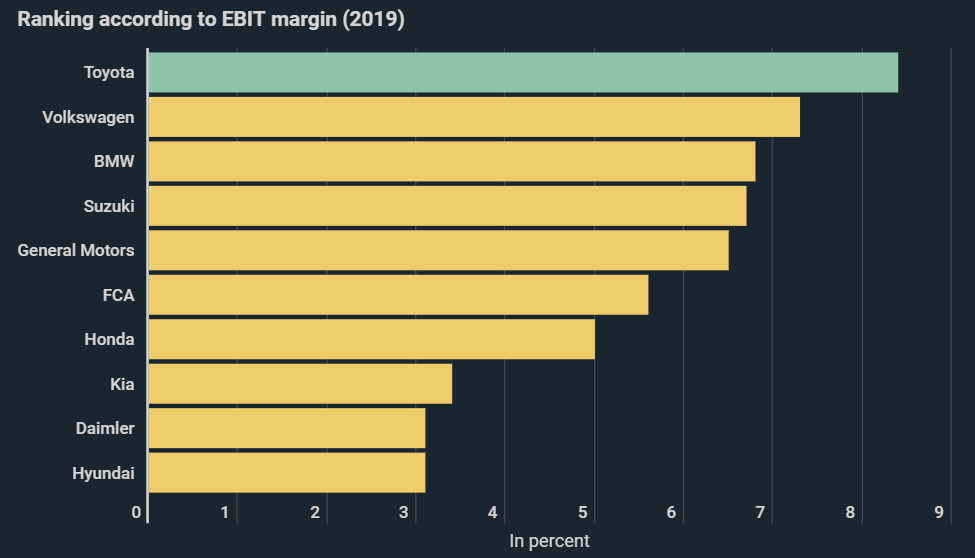 With an EBIT margin of 8.2%, Toyota was the most profitable car manufacturer in the world last year. Even throughout the corona crisis the company was able to achieve quarterly profits of up to 110 million euros, while German competitors BMW, Volkswagen, Daimler & Co. were posting substantial losses. As a new infographic from Kryptoszene.de shows, the Japanese is also leading in other regards.
Our graphic shows that Toyota was an early adopter of hybrid vehicles. Today around every second car that they export to Europe is a hybrid. No other car manufacturer comes as close to the new EU-wide target of 95 grams of carbon dioxide emissions per kilometre driven, as reported in the "Handelsblatt".
Toyota is also playing a pioneering role in the field of autonomous driving. According to a survey by "Iplytics", no other automotive group in the world has registered as many patents in this field as Toyota. They have filed a total of 1,143 patents, followed by Ford with 1,096, then by General Motors, Alphabet and Intel.
Toyota With Big Lead in Profits
In 2019, the Japanese firm recorded profits of 22.7 billion euros. Volkswagen in turn achieved the second-highest margin. Nevertheless, the gap is enormous: the Wolfsburg-based company's profits amounted to just 12 billion euros.
Although there appears to be a lot going for Toyota shares, they enjoy a rather niche existence, at least in Germany. Google searches for the search term pair "Toyota shares" is currently moderate: the Google trend score, an indicator of relative search volume, stands at 31, with a value of 100 representing the greatest possible demand.
Toyota Stocks in a Temporary Dip
While Toyota managed to stay in the black in the second quarter despite the corona crisis, the company's share price fell. In a 6-month review, the decline was 15.6%. However according to the study, Toyota seems to still be on track, and is also investing heavily in future technologies.
Jeder Handel ist riskant. Keine Gewinngarantie .Jeglicher Inhalt unserer Webseite dient ausschließlich dem Zwecke der Information und stellt keine Kauf- oder Verkaufsempfehlung dar. Dies gilt sowohl für Assets, als auch für Produkte, Dienstleistungen oder anderweitige Investments. Die Meinungen, welche auf dieser Seite kommuniziert werden, stellen keine Investment Beratung dar und unabhängiger finanzieller Rat sollte, immer wenn möglich, eingeholt werden. Diese Website steht Ihnen kostenlos zur Verfügung, wir erhalten jedoch möglicherweise Provisionen von den Unternehmen, die wir auf dieser Website anbieten.
https://kryptoszene.de/toyota-number-one-most-profitable-car-company-in-the-world-also-leads-the-way-for-environmental-protection-patents/