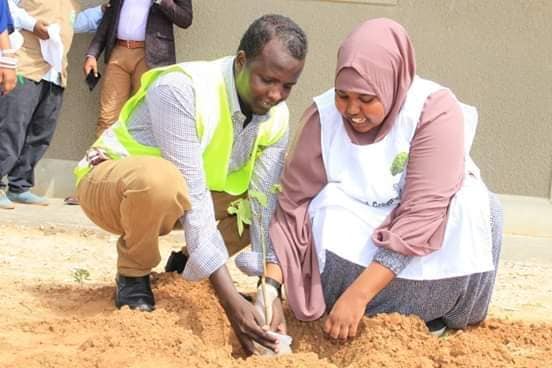 Hassan Mowlid Yasin from Somalia, Mogadishu. He is professionally qualified in Public Health and Public Administration. He is also a Global Climate Change Teacher, Environmental Activist, Advocate for Climate Change Solutions, Humanitarian Worker, working towards achieving UN sustainable Development Goals & Working towards Youth and Women Empowerment. He is co-founder and vice chairperson at Somali Greenpeace Association.
Hassan is highly active member in different international and local environmental protection driven organizations in such as, United Nation Environment Programme for Children and Youth (UNEP MGCY), Global Youth Biodiversity Network (GYBN)African Youth Initiative on Climate Change (AYICC) and One Young World Ambassador.
Hassan Mowlid Yasin
Leadership Strength
Team leadership and motivation
Project leadership
High level communication skill
Networking and influencing
PASSION
He is passionate in seeing Somali youth working towards solving the environmental problems in Somalia. He is also passionate in addressing climate change, environmental depletion, food security and peace in Somalia.
PROBLEM
Climate change is real in Somalia as well as in the global. Floods, drought, famine, food shortage and water scarcity are some of the problems caused by climate change in Somalia.
SOLUTION
Good policy implementation, national adaptation programmes, social change behaviour, capacity development of the community, youth and women empowerment would be some of the solutions to climate change and environmental problems in Somalia as well as the globe.
Contact me through:
E_mail: Ayanmhk@gmail.com
Facebook: Hassan Mowlid Yasin
WhatsApp: +252616596686
Source: Climate Daily Effects (C.D.F) is a social media platform that share stories and solutions to climate crisis in everyday life. C.D.F is presented to you Friday of every week by LYCA 's Climate Education Coordinator Miss. Kadiatu A. Sheriff. Climate Daily Effects is an initiative of  Liberian  Youth for Climate  Actions (LYCA)
You can share your stories and solutions to us (LYCA ) through these media: Nyanfor7077@gmail.com, lycactions@gmail.com , Whatsapp (+231776882413), Follow us on Facebook @LYCActions
www.delreport.com