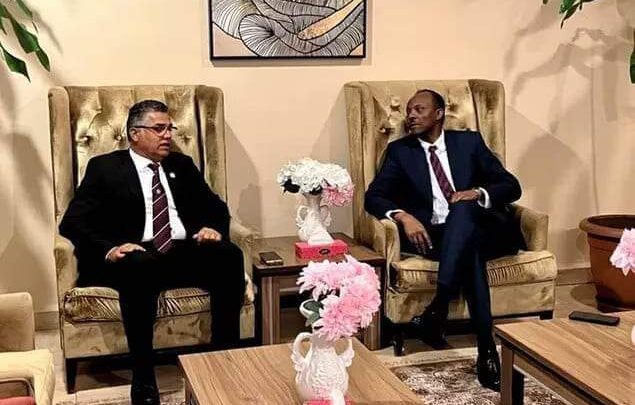 A delegation from the United Arab Emirates headed by His Excellency Dr. Abdulla Al Mandous, Director General of the National Center of Meteorology (NCM), and President of the Regional Association II (Asia), took part in the Regional Technical Conference of WMO's Regional Association I (RA I RECO 2023) held from February 13 to 17, 2023 in Addis Ababa, Ethiopia.
Drawing the participation of nearly 200 representatives from RA I which consists of 53 countries in Africa, the Conference aimed to enhance the capacities of National Meteorological and Hydrological Services (NMHSs) in Africa towards digital transformation in service delivery to ensure early warning services for all.
His Excellency Mohamed Salem Al-Rashedi, UAE Ambassador to Ethiopia and its Permanent Representative to the African Union welcomed the UAE delegation's participation RA I RECO 2023, which demonstrated the country's commitment to international collaboration and partnership in advancing weather forecasting and meteorology practices. Al-Rashedi expressed his best wishes to Dr. Al Mandous in WMO presidency election and noted the positive response he has received from the delegates and ambassadors who praised his SMART approach and appreciated the UAE's efforts to find effective solutions to the many challenges facing the world in the field of meteorology, climate and related areas.
On the sideliners of the Conference, Dr. Al Mandous hosted a dinner reception in honour of the Permanent Representatives of African countries to WMO and the ambassadors of a number of African countries accredited to Ethiopia. He also shared a presentation on his candidacy for WMO's 2023 – 2027 presidency and outlined his vision and commitment to the organization and the world meteorological community.
Dr. Al Mandous also met with His Excellency Dr. Eng. Habtamu Itefa Geleta, Minister of Water and Energy in Ethiopia during the official opening of the Conference and held discussions with fellow delegates, meteorologists, and climate experts from across the region to exchange views on the latest advancements in meteorological research and technologies.
Dr. Al Mandous said: "RA I RECO is an important forum to exchange ideas, coordinate efforts, and identify regional priorities to enhance the capacity of NMHSs and harness latest technologies to deliver better weather forecasting and meteorological services. At NCM, we are committed to collaborating with our counterparts from other NMHSs to support their digital transformation drive across the full spectrum of service delivery to mitigate the risks of natural disasters and improve the quality of life for communities across the globe."
Al Mandous added: "Through my candidacy for the WMO presidency, I aim to strengthen regional and international cooperation to ensure accurate weather forecasting and climate prediction for all regions of WMO through the use of appropriate technologies for service delivery, which is essential in mitigating the risks of natural disasters and protecting communities."
For his part, Fetene Teshome, Director General of Ethiopian Meteorological Institute (EMI) and Permanent Representative of Ethiopia to WMO, said: "We are pleased with the participation of the UAE delegation in RA I RECO 2023, which highlights the importance of international collaboration in advancing meteorological science and setting up early warning systems that have proven to be effective in proactive disaster risk reduction. We appreciate the UAE's efforts to promote knowledge sharing and use latest technologies for streamlined meteorological service delivery. Such efforts are imperative to strengthen our disaster preparedness and achieve sustainable development."
Earlier, the UAE Ministry of Foreign Affairs and International Cooperation (MoFAIC) named His Excellency Dr. Abdulla Al Mandous, the UAE's Permanent Representative to WMO and the President of the Regional Association II (Asia), as its official candidate for the WMO's 2023 – 2027 Presidency.
As part of his election campaign, Al Mandous aims to accelerate an internationally coordinated action to achieve UN Secretary-General's request to ensure that "every person on Earth is protected by Early Warning Systems in the next five years" by working together with WMO's key stakeholders and taking a five-pillar approach to deliver on WMO's vision to promote resilience to the socioeconomic consequences of extreme weather, climate, water and other environmental events. This approach focuses on supporting the role of Regional Associations' Presidents and Permanent Representatives, making 'Early Warnings for All' a reality, advancing the high-resolution climate computing research, recognizing WMO by the global society, and taking proactive steps in water security and renewable energy research.