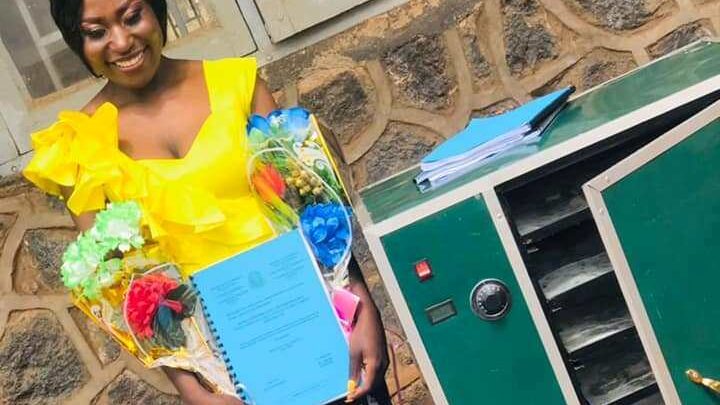 My name is KENGRAN LIZA VERNYUY (21yrs). I'm a student at the University of Bamenda, College of Technology studying Agricultural Engineering. My goal is to completely eliminate post harvest losses of fruits and vegetables in Cameroon and the world at large.
PASSION
My passion is to encourage youths to engage into a sustainable Agriculture and develop solutions for Agricultural problems in Cameroon and around the world.
PROBLEM
In most sub Saharan countries and Cameroon in particular, fruits and vegetables get spoilt very soon before they can be eaten and sold at the market and they cannot be stored for a long time because basic storage knowledge and skills of the farmers and sellers are still very poor, preservation infrastructure is expensive and need high volts and constant electricity which is almost always not available.
Traditional open sun drying is a common and widely used method for drying of agricultural produce including fruits, vegetables and cash crops. It is the simplest way of drying foods by direct exposure of the product to the sun.  Even though sun drying is the cheapest method, the quality of the dried product is far below standards. This method has other disadvantages like contamination by insects and bacteria, slow or intermittent drying. The losses of fruits and vegetables become an environmental problem and ultimately lead to pollution. Many people are facing malnutrition and chronic diseases while these crops being lost are considered an important incubator of phytochemicals and nutrients such as fiber, vitamins and minerals.
SOLUTION
I strongly believe that with the design and fabrication of dehydrators for fruits and vegetables, the problem of post harvest losses will be greatly reduced. I intend to educate my mates and the local masses on the importance and nutritional value of dried fruits and vegetables. With this initiative I intend to create a team of great minds to effectively work towards the accomplishment of my goal.
CONTACT: Email: kengranliza@gmail.com Facebook: @Vernyuy pizza Instagram: snappylizzyofficial
Source: Climate Daily Effects (C.D.F) is a social media platform that share stories and solutions to climate crisis in everyday life. C.D.F is presented to you Friday of every week by LYCA 's Climate Education Coordinator Miss. Kadiatu A. Sheriff. Climate Daily Effects is an initiative of  Liberian  Youth for Climate  Actions (LYCA)
You can share your stories and solutions to us (LYCA ) through these media: Nyanfor7077@gmail.com, lycactions@gmail.com , Whatsapp (+231776882413), Follow us on Facebook @LYCActions
www.delreport.com