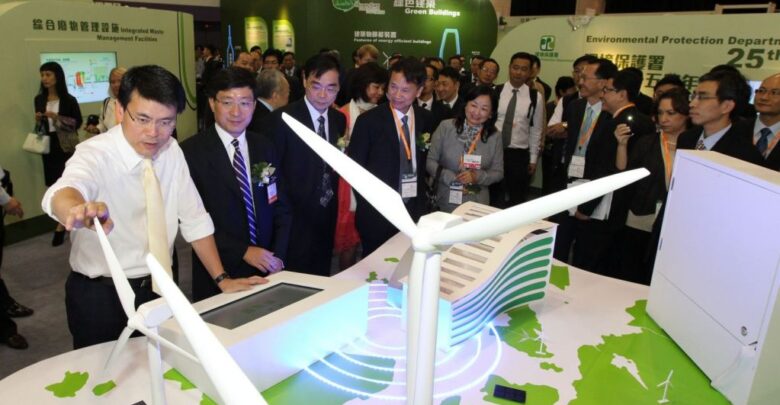 Final report
Over 16,000 visitors gathered to meet with more than 1,700 exhibitors of seven autumn trade fairs, including 211 exhibitors at Eco Expo Asia, from 27 – 30 October 2021. The 16th edition of the expo welcomed the environmental protection industry for networking, business opportunities and knowledge sharing at the Hong Kong Convention and Exhibition Centre. Hot topics at the hybrid event included carbon neutrality, circular economy, green finance and more, whilst exhibitors displayed an array of the latest green products, technologies and services.
Many local companies took the opportunity to promote their brands and showcase their products onsite at Eco Expo Asia. International exhibitors from Canada, Japan, Sweden, Taiwan and more, were also present, with aims to reach target clients from Hong Kong, the Greater Bay Area and beyond. In fact, a number of exhibitors noted the quality of buyers in attendance at the fair and reported that key decision makers were searching for potential collaborations. Just some of the visiting brands onsite were AIA International, Cathay Pacific Airways, Henderson Land Development, Hong Kong Ferry (Holdings), Kerry Logistics, PCCW, Shangri-La International and Starbucks, among many others.
What's more, a key draw for suppliers included the unique chance to directly meet with local government officials and policy makers, all searching for solutions that could contribute to various strategic environmental policies and targets. Most notably, Hong Kong and Mainland China's goals to achieve carbon neutrality by 2050 and 2060 respectively were commonly brought up in conversation as key indicators on the efforts being made towards a greener economy and society.
Overall, both exhibitors and buyers alike expressed their appreciation for an in-person event in Hong Kong, recognising the importance of face-to-face interactions for business communication. Thus the fair provided a much-needed trading platform to facilitate industry recovery and promote business collaborations.
Eco Asia Conference discussed the latest in industry innovation 
 The renowned Eco Asia Conference proved as popular as ever at this edition. A range of domestic and international speakers, including government officials, offered their expert insights and best practices, making the conference a not-to-be-missed event at the fair. Advancing Net Zero, Towards Material Circularity in Hong Kong, and Green and Sustainable Finance for Eco Business were the key themes across the two days, along with a session dedicated to the latest solid waste policies in the Greater Bay Area.
Exhibitors' experiences
 "We have organised the Canada Pavilion at least 12 times before, but this year we have the highest number of exhibitors joining. Our exhibitors are generally happy and have received lots of enquiries and leads with both new and existing quality customers. Eco Expo Asia is a good platform that helps international companies enter the market here in Hong Kong. At the moment, there is a lot of momentum moving the industry forward and people are looking for more advanced solutions, innovations and cutting-edge technology."
Ms Fatima Lai, Trade Commissioner, Consulate General of Canada, Canada
 "This is our fifth time joining the fair and we are here to promote our new products and attract new customers. We have met with quite a number of potential customers so far and the overall result is pretty great. I am optimistic about the industry development in Hong Kong and the Greater Bay Area as these governments are supportive with various green polices and targets. Also, green tech and green investment have become market trends in recent years. All in all, Eco Expo Asia is a diversified and large-scale trade fair, so we will definitely exhibit again next year."
Mr Dennis Wu, Vice Chairman and Executive Director, Allied Sustainability and Environmental Consultants Group, Hong Kong
 "Eco Expo Asia is a good platform for the industry. We've joined the fair two times before this edition and I believe there's a lot more traffic this year. The product demo we did in the seminar area was a great opportunity for our company and for our publicity, and we will definitely participate in more presentations like this if we can in the future."
Mr Kevin Tam, Managing Director, Full Comfort Technology (Group) Ltd, Austria
 "We have brought our eco-friendly water repellent additive products to the fair and we have met with target buyers such as property developers who have made genuine enquiries about our products. I am optimistic about the future of the industry and I think the government's promotion of environmental protection will help companies promote their products more easily, meanwhile buyers are more active in sourcing and getting to know the products."
Mr Ronald Yip, Sales & Marketing Manager, Kryton, Canada
 "Eco Expo Asia is a pioneer of the industry. I think the government has given its full support to this fair and in fact, they have granted a lot of funds for environmental protection, and so it's a useful platform for the industry to learn about new developments, policies and funding. I am very excited to be here to gather in-person, to conduct face-to-face business networking, exchange information, understand market trends and find potential collaborations. I believe there's lots of potential and business opportunities in the Chinese market and Greater Bay Area."
Ir Prof Daniel M. Cheng, Managing Director, Dunwell Technology (Holdings) Ltd, Hong Kong
 "I think the fair has been really good, especially yesterday as we had politicians and government officials visiting our booth, and there were also VIP tours with targeted buyers. I think it's a very diverse expo actually because there is a wide spectrum of companies, for example in energy, waste management and more, so it's a beneficial platform for exhibitors. I think we will explore exhibiting next year especially as there is a wide variety of industries represented here."
Ms Vivian Li, Client Engagement Manager, Blue Sky Energy Technology, Hong Kong
 Buyers' reports
"At the fair we are looking for sustainable and eco-friendly solutions that we could potentially implement at our properties. This includes ways to reduce food waste as well as plastic usage, such as more sustainable cutlery. The variety of exhibitors here is good and we've seen some interesting products. For example, we met a company that manufactures all of its products from bamboo. This is very interesting and certainly holds potential for us."
Mr Gael Moureau, Corporate Executive Chef, Shangri-La Group, Hong Kong
"I have been able to make some useful business contacts at the fair, especially Suez and Veolia, which are both interesting in terms of civil engineering and waste management, which are our targets. I decided to join the fair to better understand the market and potential customers here in Hong Kong and Asia, and I've found it quite useful."
Mr Jordi Damià Rosal, Business Representative, Rosal Instalaciones Agroindustriales, Spain
 "This is my first time visiting Eco Expo Asia and I'm looking to learn more about the environmental industry, understand new trends in the market and establish business connections. Today I found some new useful business contacts in the water filtration and electric vehicle sectors. I think the scale of the expo is quite large and my overall impression is positive, so I will visit again next year."
Mr Karson Mok, Account Manager, APSIS, Hong Kong
 Speakers' insights
 "I think these events are really important for the industry to engage with like-minded individuals. We consider ourselves a market leader in Hong Kong, so it's very important for us to share our best practices and also to present to our existing but also potential new customers as well. If you look at the level of participation here today, even with a predominantly Hong Kong audience, it's been really positive to see and I also know of customers who have been participating online too, so the combined hybrid approach is really beneficial. The potential in Hong Kong and the Greater Bay Area is really immense for our industry."
Mr Kevin O'Brien, Chief Executive, Gammon Construction Ltd, Hong Kong
"The forum provides a chance for peers to have more in-depth and focused discussions. It brings together many professionals who are interested in ESG and carbon neutrality. Despite unprecedented challenges during the pandemic, a lot of bonds and loans were issued to help with pandemic prevention solutions which increased the diversification and usage of green finance, so it brought a lot of business opportunities to the green finance industry. I think there is huge potential in China and I will be launching a carbon neutrality association in the Greater Bay Area soon."
Mr Dennis Wu, Vice Chairman and Executive Director, Allied Sustainability & Environmental Consultants Group Ltd, Hong Kong
 Seminar attendee feedback
"I work in F&B manufacturing and joined the conference to learn more about the circular economy and related policy updates, most importantly how we will be moving forward in this direction. I obtained particularly useful information about green building structures and materials yesterday. It's nice that there were pre-recorded and in-person presentations sharing the best practices from Europe. I will join the fair again next year."
Ms Eri Ohara, Assistant General Manager, Nissin Foods Co Ltd, Hong Kong
 Eco Expo Asia 2021 was held alongside the HKTDC Hong Kong Electronics Fair (Autumn Edition), HKTDC International ICT Expo, electronicAsia, HKTDC Hong Kong International Lighting Fair (Autumn Edition), HKTDC Hong Kong International Outdoor and Tech Light Expo and Hong Kong International Medical and Healthcare Fair. The fairs took place from 27 – 30 October at the Hong Kong Convention and Exhibition Centre.
The next edition of Eco Expo Asia will take place from 26 – 29 October 2022 in Hong Kong. Eco Expo Asia is jointly organised by the Hong Kong Trade Development Council (HKTDC) and Messe Frankfurt (HK) Ltd and co-organised by the Environment Bureau of the Hong Kong Special Administrative Region (HKSAR) Government.
 Background information on Messe Frankfurt
The Messe Frankfurt Group is the world's largest trade fair, congress and event organiser with its own exhibition grounds. The Group employs approximately 2,450 people at its headquarters in Frankfurt am Main and in 29 subsidiaries around the world. The company generated annual sales of approximately €257 million in 2020 after having recorded sales of €736 million the previous year. Even in difficult times caused by the coronavirus pandemic, we are globally networked with our industry sectors. We have close ties with our industry sectors and serve our customers' business interests efficiently within the framework of our Fairs & Events, Locations and Services business fields. One of the Group's key USPs is its closely knit global sales network, which extends throughout the world. Our comprehensive range of services – both onsite and online – ensures that customers worldwide enjoy consistently high quality and flexibility when planning, organising and running their events. We are expanding our digital expertise with new business models. The wide range of services includes renting exhibition grounds, trade fair construction and marketing, personnel and food services. Headquartered in Frankfurt am Main, the company is owned by the City of Frankfurt (60 percent) and the State of Hesse (40 percent). For more information, please visit our website at: www.messefrankfurt.com
About the HKTDC
The Hong Kong Trade Development Council (HKTDC) is a statutory body established in 1966 to promote, assist and develop Hong Kong's trade. With 50 offices globally, including 13 in Mainland China, the HKTDC promotes Hong Kong as a two-way global investment and business hub. The HKTDC organises international exhibitions, conferences and business missions to create business opportunities for companies, particularly SMEs, in the mainland and international markets. The HKTDC also provides up-to-date market insights and product information via research reports and digital news channels. For more information, please visit: www.hktdc.com/aboutus. Follow us on  
 Twitter @hktdc 
 LinkedIn