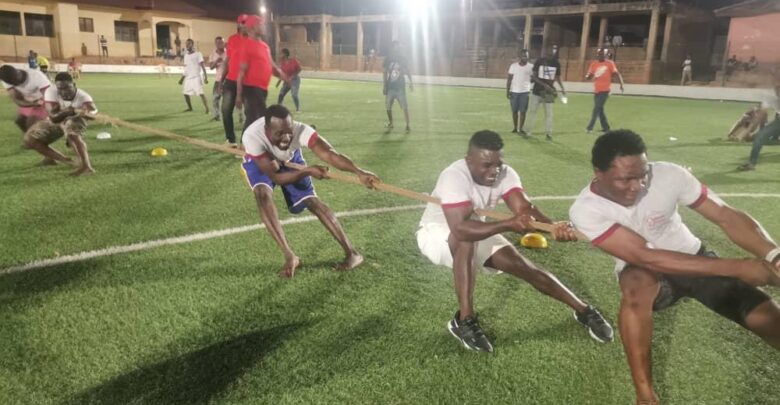 The amazing and energetic Young Boys of Kokompe defied all odds to emerge winners of the Spare Parts Dealers Tug of War Challenge which was held on Saturday December 4, 2021 at the Fadama Astro Turf.
Five strong teams including Sharkman, Americans, Engine Parts competed in the exciting competition which was graced by top sports personalities and a sizeable crowd, including Yours Truly.
After the first round of all pull all, four teams qualified for the semifinals where Young Boys and Black Bones went to the final.
It was a real test of resilience, stamina, energy, power and endurance as the Young Boys demonstrated their athletic characters to pull the hot favorites.
The joyful Young Boys received gold medals, certificates, drinks from 8pm and a giant trophy. Black Bones took the Silver medals and certificates. They were refreshed with products of the sponsors of the event.
President of Ghana Tug of War and CEO of Dreamland Sports Plus, the organisers Mr. Emmanuel Olla Williams who is also Youth Coordinator of the Ghana Olympic Committee (GOC) said the contestants have proved that the nation has talent in various sports fields, as they showed their readiness to be selected to represent the nation at the international level.
He congratulated the winners and urged them to train hard for subsequent competitions coming up.
Mr. William Ocansey, General Secretary of the Tug of War Association also commended the participants for their discipline and compartment.
Mr. C. Mckorley, Vice President of Association, a veteran sports organizer appealed to the 2023 African Games organizers to monitor all disciplines and find where Ghana is capable of winning medals to boast the nation's image.
He said sport is very entertaining and for fitness, and can be taken to a higher level with the support of the National Sports Authority, Ghana Olympic Committee GOC and the Ministry of Youth and Sports.
By Matthew Agyei