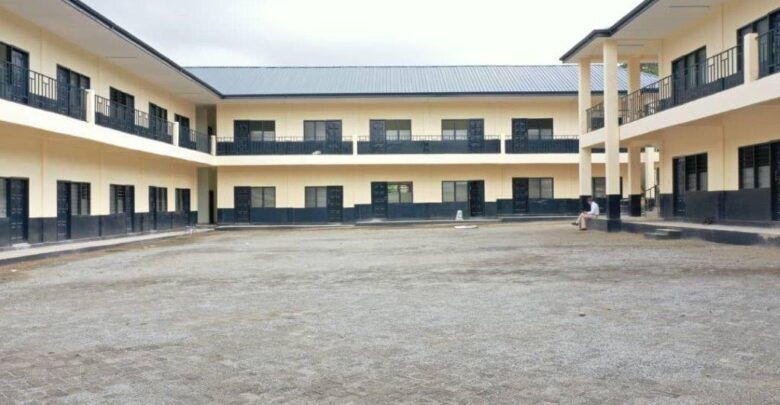 MTN Ghana has handed over a 24-unit classroom block to the Ghana Police Service's Depot School at Tesano in Accra. The GHS 3.4 million facility contains a Nursery and Kindergarten, a Primary School Department, and a Junior High School Department serving a student population of approximately 2,500.
Speaking at the event, CEO of MTN Ghana, Selorm Adadevoh, said "Our motivation for taking on this project was fueled by our understanding that the school had been operating from a colonial, weak and dilapidated structure with no decent washroom facilities, library nor ICT laboratory. I am delighted to be here today to handover this 24-unit classroom block to the Ghana Police. It is really refreshing to know that 18 months investment in time, resources and labor has produced this beautiful new classroom complex that has been put up for the Police Depot School," Selorm Adadevoh said. 
"The new facility will ease the current pressure on the school and catchment area and will provide a more comfortable learning environment for teaching and learning," he added.
On his part, the Board chairman of the MTN Ghana Foundation Prof. Franklyn Manu said, "The MTN Ghana Foundation was established with the mission to improve the quality of lives of people through life enriching and sustainable corporate social responsibility interventions in communities where MTN operates. This project is a typical example of what we set out to do as a Foundation which is to identify socio-economic issues affecting our society and then partner the relevant stakeholders to find lasting solutions to them."
Delivering the keynote address on behalf of the President, Minister for Communication and Digitalization, Hon. Ursula Owusu-Ekuful applauded MTN Ghana for the amazing job of providing a safe place for teaching and learning. She urged the students to take their lessons especially ICT seriously as it will connect them to wider and limitless opportunities in Ghana and other parts of the world.
Commissioner of Police, Alex Mensah, Director General Technical of the Ghana Police thanked MTN Ghana for single handedly building such a magnificent facility for the school. "To MTN all that we can say, as it is in Macbeth is 'More is thy due, than more than all can pay'. We are very grateful and shall always remain grateful to you anytime we enter this edifice.," COP Mensah stated.
The dignitaries who attended the ceremony included the South African High Commissioner to Ghana, Madam Grace Jeanette Mason, Deputy Minister of Education, John Ntim Fordjour, Board Chairman of the NCA, Mr. Isaac Emmil Osei-Bonsu, Director General of NCA Joe Anokye, CEO of the Ghana Telecoms Chamber, Dr. Kenneth Ashigbey, MP for Okaikwei South Constituency, Honorable Darkoa Newman, Municipal Director for Education Cynthia Obuni and other Directors of Education, Officials of the Ghana Police Service and the Police Training School, School Authorities, PTA Members, Pupils and Students of Ghana Police School.
The dignitaries from MTN were Board Chairman of the MTN Ghana Foundation, Prof Franklyn Manu, Mrs. Nabila Williams, Board member of MTN Ghana Foundation, some Officers of MTN and staff.
Since its establishment in 2007, the MTN Ghana Foundation has invested USD 15 million in over 158 major projects in the areas of education, health and economic empowerment which are directly impacting an estimated 4 million and several others indirectly.
Education is one of three focus areas of the MTN Ghana Foundation. Out of the total number of projects, the Foundation has invested in 87 education projects and they  include ultra-modern Technology Laboratory for the Ghana Institute of Public Administration (GIMPA), ICT Centers for Takoradi Technical Institute, Koforidua Technical University, Bonsu Agric University and the Assistive Technology Unit at the University of Ghana, boys' dormitory block for Akropong School for the blind, a six-unit classroom block for Kodjonya Millennium School and eight unit dormitory block for Owerriman SHS. The Foundation has also provided over 1000 scholarships for needy and brilliant students across the country under its Bright Scholarship scheme.
About MTN Ghana Foundation
The MTN Ghana Foundation was established in November 2007 as the vehicle to select and implement MTN's Corporate Social Investments. MTN Ghana Foundation has three areas of focus -Health, Education and Economic Empowerment.  From its inception to date, the Foundation has undertaken 158 major projects across the country. Notable health projects include construction of a Neonatal Care Center for Tamale Teaching Hospital, refurbishment of the 2nd floor maternity block of the Korle Bu Teaching Hospital, construction of a maternity block for Ejisu Government Hospital, and construction of an Emergency Center for Atua Government Hospital. Education projects undertaken include  construction of a boys dormitory for Akropong School for the Blind, construction of a six-unit classroom block for Kodjonya Millennium School, establishment of 10 MTN ICT Learning Centers in regions and the institution of an Innovation Hub at KNUST to promote Telecoms Engineering and Research. Key projects undertaken in Economic Empowerment include: the construction of shea butter processing centers, provision of seed capital and skill training for Women of Tizaa Dini Association of Yendi and the Sung Suma Women Association of Wa.
For more information visit  http://www.mtn.com.gh/about-mtn/community/mtn-ghana-foundation