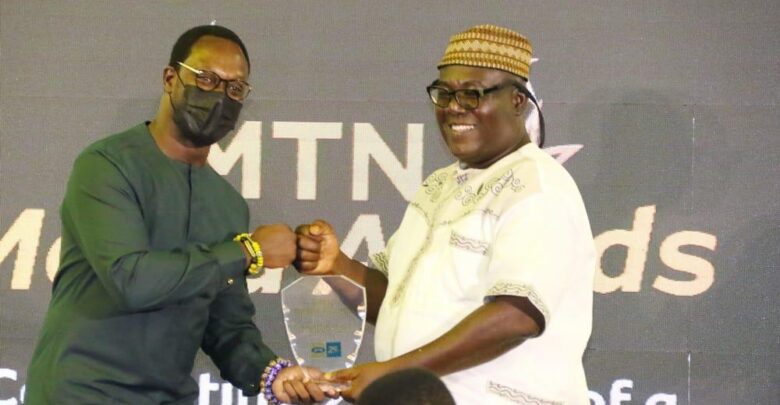 By Sammy Heywood Okine
Nii Maale – Adsei, Director of Mamedia Ventures was one of the personalities honored by MTN Ghana at the first Bright Media Awards held at the Alisa Hotel in Accra.
He was among selected individuals and organisations who got the special awards at the event which was strictly by invitation and exclusive for those who have played in roles in the 25 years existence of MTN.
Nii Maale who is a member of the Sports Writers Association of Ghana (SWAG) has over the years supported MTN in driving and promoting their media activities, especially sporting events with the MTN Invitational Gold series which has become very popular on the calendar.
He has also ensured that the news comes in timely, efficiently and effectively on major media nerworks; online, radio, television and print.
"I wish to express my sincere gratitude to MTN for honour bestowed on me. I was clueless that you were contemplating for me for this award, therefore I came with full amazement and fun especially with my new name 'Naa Maale'. To be honest, your award makes me feel good, proud and validated. The biggest honour goes to the MTN Comms team who have supported the company to attain its overwhelming success for the past 25 years. Members of the MTN Republic are rare breed of inspirers. My self belief will be improved by this honour. It also gives me the motivation to do more, improve my efforts and guarantee you that I will make more attempts to help push the MTN brand. God bless you all" he expressed.
A total of 13 distinguished journalists were awarded with Samuel Dowuona, founder / editor of techgh24.com going home with the ultimate prize.
In the print category, Mrs Ama Achiaa Amankwah Baafi of Graphic Business materialized as the top winner, while Michael Abayateye of Ghanaian Times and Suleiman Mustapha of Daily Graphic came in as first and second runners-up respectively.
For the online category which produced the overall winner of the awards (Samuel Dowuona), Rev Dr. Felix Klutse of Business Day Ghana and Kofi Ahovi of Businessweek were the first runner-up and third runner-up prizes respectively.
In the TV category, Francisca Sedinam Arhin of GhOne TV, Kweku Bolton of GBC, and Phil John Quartey of Metro TV emerged first, second, and third runner-up respectively.
Thomas Tetteh and Rosemond Adjetey won prizes in the first and second slots in the radio category,.
Ten special awards were given to some media institutions and deserving individuals. They included Ghana Journalists Association (GJA), Institute of Financial and Economic Journalists (IFEJ), Journalists for Business Advocacy (JBA), Media Foundation for West Africa (MFWA), Network of Communication Reporters, Nana Kwesi Gyan Apenteng, and Nii Maale-Adsei, among others.