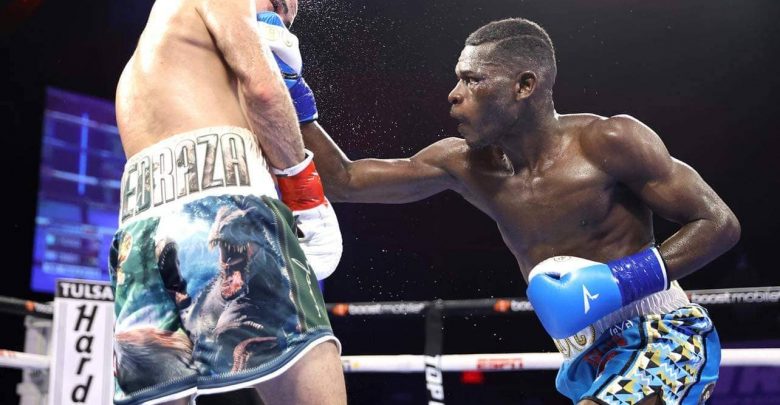 By William Fiifi Sey, Hard Rock Hotel and Casino Tulsa, Oklahoma
Ghana's Richard Commey and Puerto Rican, Jose Pedraza's clash ended in a split draw in a 10-round bout at 140 Ibs at the Hard Rock Hotel and Casino in Tulsa, Oklahoma.
Commey (30-4-1, 27 KO) started on a defensive note making Pedraza (29-4-1, 14 KO) a bit more comfortable in the opening round. However, Commey began to dominate from the second round until a head butt incident in the sixth round resulted in a cut on top of his left eye.
Pedraza had a dominant ninth round but that was only good enough to attract a split draw.
Commey who was hoping for a debut win in the junior welterweight division said "I am disappointed because I should have won this fight but it is what it is." "It is a draw. Obviously, I have to go back home and see my people. I love my people, and I gotta go back there, do what I gotta do" he added.
Pedraza who had a plan to neutralize Commey's right hand said "Even though my eye was inflamed, we understood that it was done because he has a good right hand. The entire night, the whole point was to neutralize that right hand. Despite the fact that it was inflamed, I was able to do that," Pedraza said. "I've never turned down a fight, and I'm not going to start now. Whatever Top Rank wants for me. If they demand a rematch, I'm ready to give Richard Commey a rematch because he deserves it and I have the utmost respect for him. Ultimately, my goal is to win a world title once again. Whatever I have to do, that's what I'm willing to do."
The two former world champions Commey and Pedraza lost their last fights prior to this fight to Vasiliy Lomacheko and Jose Ramirez respectively.