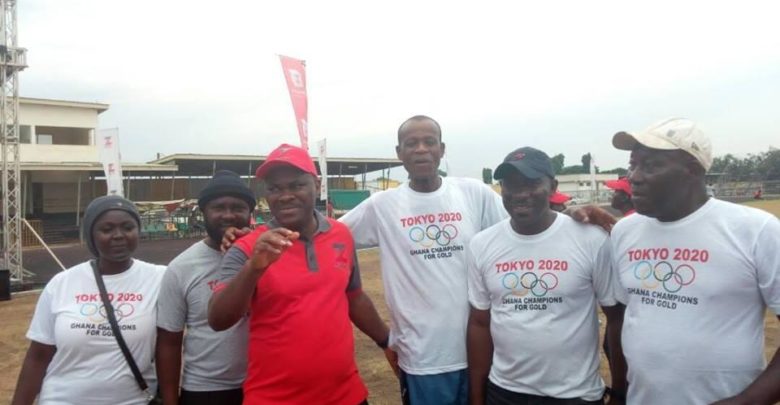 By Sammy Heywood Okine
The chef d' mission of Tokyo 2020 Olympic Games, Mr. Paul K. Atchoe led some members of his Working Committee to join staff of Zenith Bank in their Health Walk and other fitness exercises at the El Wak Sports Stadium last Saturday.
According to Mr. Atchoe who is also President of the Ghana Volleyball Association (GVA), his team took part in the Zenith Health Walk to encourage the banking staff and their families as well as customers to bond together in exercising and sharing ideas on sports and business.
Mr. Theo Wilson Edzie, President of the Ghana Swimming Association (GSA) and Director of Operations for Tokyo 2020 where Ghana is targeting her first Olympic gold said the Ghana Olympic Committee (GOC) needs the support of all Ghanaians and businesses, hence the collaboration with the financial institutions to back Ghana's contingent to the next Olympic Games.
He said aiming for gold medals comes with adequate preparations and special training with the champions.
Mr. Edzie said Tokyo 2020 is another opportunity for the youth of Ghana to showcase their God-given sports talents and excel.
He noted that the athletes can only shine if they are supported by the corporate bodied like Zenith Bank.
He hinted that the Tokyo 2020 Committee is coming up with many plans, programmes and events to create awareness and raise funds.
He said they have paid a special visit to the Manhyia Palace in Kumasi to invite the Asantehene to play a special role for Ghana, as the traditional leader whom many sportsmen and women drew inspiration from.
Meanwhile, plans are advanced for a 13 week Television Talk Show to educate the general public on Olympism and the Olympic Games since it started.
Top sporting personalities, ex Olympians and former Presidents as well as the current executives of the GOC and media personnel will appear on the show.
There are major entertainment concerts, floats, fund raising dinner dances and football matches between Ghanaian and European clubs all lined up before Ghana goes to Tokyo in 2020.
www.delreport.com