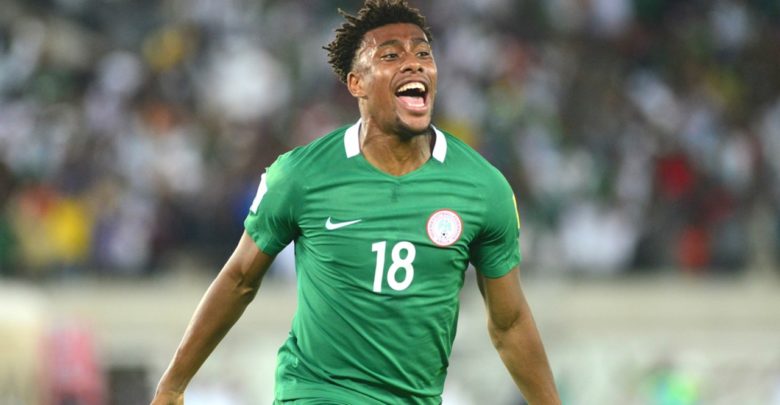 The countdown to the biggest and most prestigious tournament in global football, the World Cup is firmly on.
The World Cup often provides a platform for individual talents to make themselves known. In time past we've witnessed the likes of Austin Okocha, Kanu Nwankwo, Samson Siasia and the late Rashidi Yekini just to name a few.
Now we have a new crop of technically gifted players whom are willing to give their all if the given the opportunity to put on the green white green at the World Cup.
Five Nigerian Players To Watch Out For Russia 2018 :
Alex Iwobi : Highly gifted with deft passing technique, the Arsenal man would be hoping to stake a claim at the big stage after scoring the lone goal that gave Nigeria the ticket against Zambia.
Kelechi Iheanacho : Mostly forms a great partnership with Iwobi, which was recently showcased in a friendly against world powerhouse Argentina.
Iheanacho who is known to be able to play as a lone striker can also form deadly partnership with the right number around him.
Wilfred Ndidi : Currently referred to as the most proficient tackler in the English premier league, Ndidi is gradually becoming fans favorite at the King Power Stadium. Hopefully he transforms his club form into something many would savour at the World Cup.
Victor Moses  : Not much is needed to be said about this talented young man other than, Moses will take us to the Promised Land.
John Mikel Obi : Like the popular saying 'the taste of wine gets better with age'. This has been the story of Mikel.
Captain, leader, mentor and conductor no wonder Mikel's name would be the first on the list of players going to the World Cup provided he is fit enough to make the list.
We shouldn't forget other names who are not on this list. My wish is just that they deliver when called upon as footballer is a team sport not just a sport for individuals, not to take away the fact that the individual brilliance also wins games.
Yusuf Jimoh, All Nigeria soccer