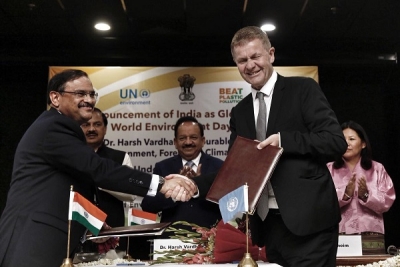 The global celebrations will be used to raise awareness of plastic waste and find ways to reduce the prevalence of single-use plastics.
The news was made today by UN Environment and India's Environment Ministry in New Dehli.
Dr. Harsh Vardhan, India's Minister for Environment, Forest and Climate Change, commented: "India is excited to host the World Environment Day this year. Indian philosophy and lifestyle has long been rooted in the concept of co-existence with nature. We are committed to making Planet Earth a cleaner and greener place".
World Environment Day was established by the UN in 1972 to raise environmental awareness and action. Last year's day, led by Canada, had the theme of 'connecting people to nature'.
As part of its duties as hosts, India will organise and lead initiatives around the country on plastic waste and clean-up. This will include activities in public spaces, national reserves, beaches and forests to help drive national interest in the issue.
Erik Solheim, Head of UN Environment said at the announcement on Monday that India will be a "great global host".
"The country has demonstrated tremendous global leadership on climate change and the need to shift to a low carbon economy, and India will now help galvanize greater action on plastics pollution"
"It's a global emergency affecting every aspect of our lives. It's in the water we drink and the food we eat. It's destroying our beaches and oceans. India will now be leading the push to save our oceans and planet", he added.
UN Environment states that India has the highest recycling rates in the world, and is well-placed to help accelerate changes to solve plastic pollution. It's estimated that 500 billion plastic bags are used every year around the world, and that 50 percent of the plastic we use is single-use.
Climate Action Programme