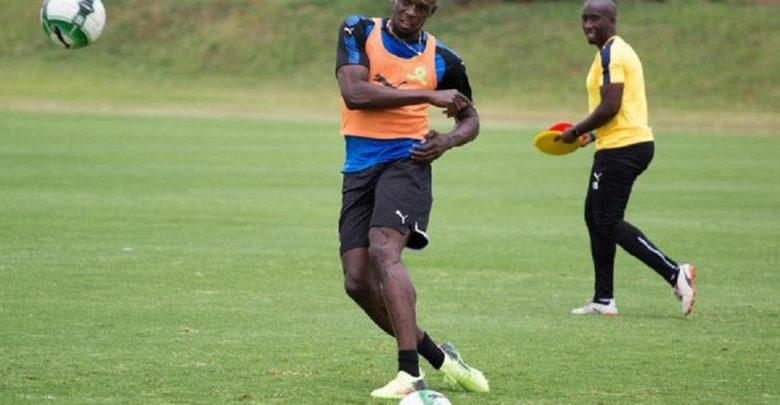 Usain Bolt is being called out by his fans online after he announced that he will be playing for the Soccer Aid World XI, which will play against an England team led by musician Robbie Williams, who co-founded Soccer Aid.
Usain Bolt who is an ardent Manchester United fan had hyped the hopes of many of his fans across the globe on Sunday when he posted a video saying he had signed for a football team.
The post fuelled speculation over which time the former world sprint champion might choose with Manchester United, Germany's Borussia Dortmund and South Africa's Mamelodi Sundowns taking center stage.
Mamelodi has trained at both Dortmund and the Sundowns.Rather than a top football club however, Usain shocked his fans with the announcement that he is joining stars and football legends brought together by Soccer Aid to raise money for global children's charity, UNICEF.
This year's match that will be played on Sunday June 10th at Old Trafford, the home of Bolt's favorite club, Manchester United and Bolt says it brings him a step closer to hi dream.
"It is my dream to make it as a professional footballer, so to be able to step out onto the pitch at Old Trafford in June, and play against some of football's biggest legends is going to be remarkable,'' Bolt saidMany fans still felt let down by the charismatic star who has repeatedly expressed his desire to play professional football after retiring from athletics following the 2017 World Championships, after a career spanning three separate Olympic Games.
The charity match has previously featured stars including Will Ferrell, Woody Harrelson, Mike Myers and Niall Horan and footballing royalty such as Maradona, Zinedine Zidane, Luis Figo and Ronaldinho, who have helped Soccer Aid raise £24 million since its launch in 2016.
Africa News