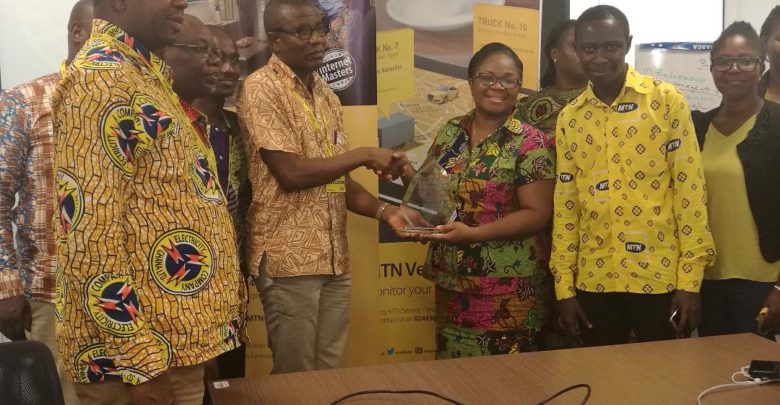 By El-Amisty Nobo
Leading telecommunications industry in terms of voice clarity, MTN has been acknowledged by the Accra East and West divisions of the Electricity Company of Ghana [ECG] for its promptness to the settlements of its bills.
In view of that, the telecommunication giants has been rewarded for remaining a loyal customer of ECG.
"MTN is a huge energy consumer and with the growth of digitization. We are putting in place measures which will enable you follow up on your daily consumption of electricity; this way the charges will be transparent and more credible," Mr. Dapaah who presented the award at a short ceremony noted.
Mrs. Pala Asiedu Ofori [Acting Corporate Services Executive of MTN] who received both delegations at the MTN House in Accra expressed her gratitude to ECG for their kind gesture.
"We are honored to be acknowledged by both East and West Divisions. We strive at being excellent in our operations and indeed grateful for the acknowledgements from both divisions," Mrs. Pala Asiedu said.
Follow Amisty on twitter @ElAmistyNobo
www.delreport.com