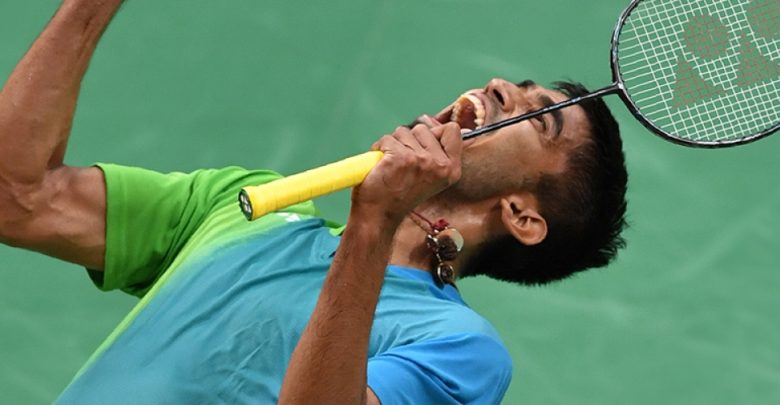 Badminton player Srikanth Kidambi was named Indian sportsman of the year on 27 November 2017. This meant that the 24-year-old had finished ahead of every single cricketer in the country, including even the deified captain himself, Virat Kohli.
"I can't really explain it," Kidambi said, laughing. "I never thought I would get that. November, December (2016) I was injured and at the beginning of the year I would never have thought I would go on and receive the Indian of the year award and not just ahead of the cricketers but India is doing really well in every sport.
"It gives you a lot of confidence."
And so it should. The waspishly quick Kidambi enjoyed an extraordinary 2017. After starting the year injured and out of form, he won back-to-back World Superseries titles in June in Indonesia and Australia before repeating the feat in October, triumphing in the Denmark Open and French Open. In the process he became just the fourth player ever to win four or more men's singles Superseries titles in a calendar year and rose to a high of world number two.
"I think it is the amount of training I have been doing, not just this year but for the last four-to-five years," Kidambi said modestly of his remarkable run.
"Having (Puellela) Gopichand (the 1998 Commonwealth Games men's singles bronze medallist and India's current chief national badminton coach) on board this year has really helped me be fit throughout the match, be fast and have smooth movement."
Kidambi's game is all about relentless pace and all-court action. China's Lin Dan, the 2008 and 2012 men's singles Olympic champion, was widely quoted in 2017 labelling Kidambi as the "most complete player" currently on tour. It all combines, as Kidambi acknowledges, to make the Indian a favourite for gold at the Gold Coast 2018 Commonwealth Games.
"It's a really big year with the Commonwealth Games, the Asian Games and the world championships," Kidambi said.
If I can stay fit, I fancy my chances at the Commonwealth Games. I will be one of the favourites. If I am 100 per cent (fit) I have always played well."
This is the key point for Kidambi. His all-action style is utterly dependent on his body being at maximum capacity. A slight shoulder injury in the closing months of the 2017 season resulted in the Indian failing to progress to the knockout stages of the World Superseries final in Dubai. He is adamant he won't allow any such niggles to affect 2018.
"I have to make sure I choose my schedule really wisely. It's such a big year, I don't want to play too many tournaments before the Commonwealth Games and exhaust myself," Kidambi said. "I really want to plan my tournaments well."
Despite his four World Superseries wins last year, the current world number three knows he does have one critical challenge to overcome before he can claim his talent fulfilled.
"I have played quarter-finals in many, many big events but I have never broken that hurdle and this year, having all these big events, I really want to do well, break that hurdle and not just (get to) the semi-final but even the final," he said.
Quarter-final losses to the Republic of Korea's Son Wan Ho at the 2017 world championships in Glasgow and Lin Dan at the Rio 2016 Olympic Games – both players he had beaten with ease on big stages in the past – confirmed that this habit needs breaking.
There will be no better place to do it than the Gold Coast. In the 2014 edition in Glasgow, Kidambi – yes, you guessed it – lost in the quarter-finals of the men's singles. Interestingly, the Indian has further experience of the event often referred to as the Friendly Games: he took part in the 2011 Youth version, held on the Isle of Man, in the UK.
"It was a small island but I really loved that place," Kidambi said. "It had one of the best hotels and stadiums and I really loved being there."
Not only has he come a long way since those days on the far-flung Isle of Man – he played only boys' and mixed doubles in 2011 – but badminton itself has also blossomed in his home country.
"When I started playing it wasn't that popular but then in the last four-to-five years it has grown a lot and seen a great evolution," he said. "Now many, many kids want to play the sport."
It has certainly helped that India also boasts women's world number three PV Sindhu and male top-10 player HS Prannoy. In fact, Indians won seven of the 24 men's and women's World Superseries and World Superseries Premier titles contested in 2017. But there is no doubt who is top of the tree, as far as Indian fans are concerned.
"Yeah there is some responsibility on me but I just really love the sport and I want to continue to play, I just enjoy it," Kidambi said.
If he can maintain that level of enjoyment, and stay fit, there is surely no reason he cannot break the quarter-final hoodoo on the Gold Coast and become a Commonwealth champion. Do that, and Kohli might be hard-pressed to reclaim his spot as India's favourite sportsman.
AMP Media