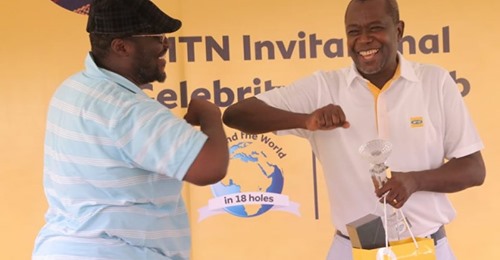 By James K. Attaglo Wilson
Corporate Services Executive of MTN Ghana, Mr. Sam Koranteng has opined that the most cherished and trusted telecommunications brand in the country is aiming at becoming a digital operator by the year 2023.
Speaking to the press at the MTN Invitational Golf Tournament on Saturday, November 21, 2020, Corporate Services Executive explained the reason behind his outfit's theme for this year – "The Year of the Customer, The Digital Experience."
"This theme is in line with our objective to become a digital operator in 2023," he noted.
Mr. Koranteng implored the customers of MTN to interact more with their ayoba and myMTN apps:
"We are empowering the customer to interact with us through our ayoba and myMTN apps. There are so many functions on these apps and I'll encourage all of you to download it from Google Play Store and the Appstore."

Mr. Koranteng further outlined some of the interventions MTN Ghana has put up in cushioning the effort of government in its fight against the COVID-19 pandemic including;
1. Using their platforms [Caller tunes, SMS, etc] to create awareness and educate the citizenry on the need to adhere to the coronavirus protocols.
2. Providing through the MTN Ghana Foundation GHS5 million worth of PPE, medical suppliers and other essential items for first responders across the country.
3. Zero rating well over 200 educational websites to facilitates e-learning activities of students at homes.
Felix Kwame Akafo golf strong to emerge as the winner of the 2020 MTN Invitational Golf Tournament held in the memory of the late Jacob Plange-Rhule whose passed on April 10 after testing positive for COID-19.
Professor Plange-Rhule, a former MTN Board member and an ardent golfer until his sudden demise was the Rector of the Ghana College of Physicians and Surgeons, a nephrologist at Komfo Anokye Teaching Hospital and a professor at the Kwame Nkrumah University of Science and Technology in Kumasi.
Other winners on the day include; Christopher Mbi, Okoe Tackie, Ross Han, Alex Oppong, Georgina Andoh, Esther Antwi, Leticia Amponsah Mensah, amongst others.
The MTN Invitational Golf Tournament – A tournament for champions is a special initiative of telecommunications giant [MTN Ghana] with the aim of bringing together CEO's under one umbrella to socialize and network whilst promoting the sport – golf.
Source: sports24ghana.com