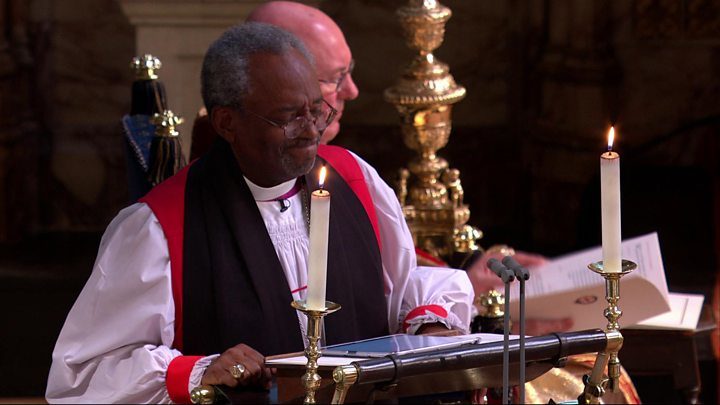 The US minister chosen by Prince Harry and Meghan Markle who told royals and celebrities that "love is the way" at their wedding on Saturday has previously spoken out on racial justice, LGBT equality and sexual harassment and exploitation.
In a powerful and entertaining address that left some members of the royal family looking bemused even as others laughed and nodded, Bishop Michael Curry told the service: "There's power in love. Love can help and heal when nothing else can. There's power in love to lift up and liberate when nothing else will."
Curry, the most senior figure in the American Episcopal church, part of the global Anglican communion, was one of three clergyman at the wedding. The archbishop of Canterbury, Justin Welby, took the couple through their marriage vows and the dean of Windsor, David Conner, conducted the service.
Curry is the first African-American to serve as presiding bishop of the predominantly white US Episcopal church, and has recounted his family history as slaves and sharecroppers in North Carolina and Alabama in his autobiography Songs My Grandma Sang.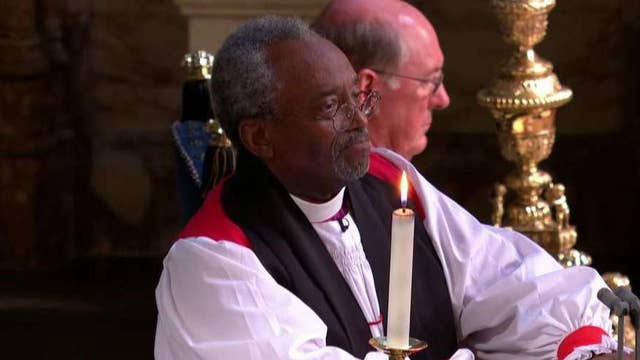 He told the New York Times in 2016 that when he was training for the priesthood, "the expectation at the time was that if you were a black priest or seminarian, you were going to be serving in black churches. There was a black church world and a white church world. That was the given-ness of racism, not that anybody said anything."Referring to "patterns of exclusion across a lot of different lines – race, gender, class", he added: "God didn't make anyone to be a second-class citizen … He says, 'Come unto me all of you.' He didn't limit love. The dude, he got it."
His appointment in 2015 as presiding bishop came soon after the Episcopal church decided it would permit its clergy to conduct same sex marriages, a move which led to de facto sanctions by the Anglican communion the following year.
Curry said: "For many who have felt and been rejected by the church because of who they are, for many who have felt and been rejected by families and communities, our church opening itself in love was a sign of hope. And [the decision to impose sanctions] will add pain on top of pain."
In January this year, he responded to the #MeToo movement, saying the church "must examine its history and come to a fuller understanding of how it has handled or mishandled cases of sexual harassment, exploitation and abuse through the years."
A letter co-signed by Curry and another Episcopal church leader said "women in all walks of life have suffered unspoken trauma at the hands of male aggressors and harassers".
It added: "We must commit to ending the systemic sexism, misogyny and misuse of power that plague the church just as they corrupt our culture, institutions and governments.".
By Harriet Sherwood, theguardian.com/uk