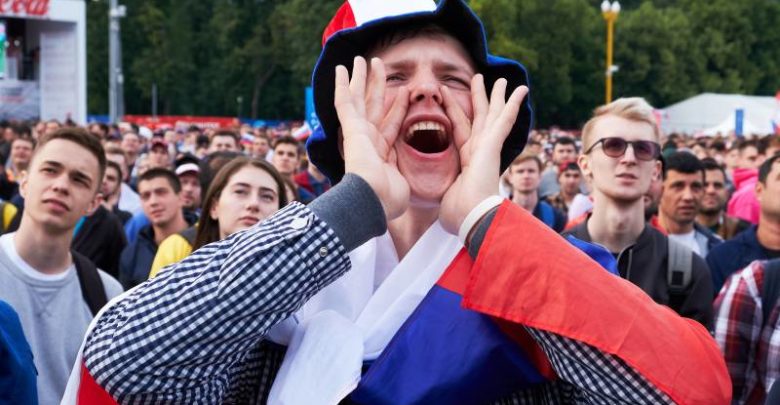 After all the hype, all the controversy, all the political brouhaha, the 2018 FIFA World Cup finals are finally under way and in the most surprising manner.
Hosts Russia, bottom of FIFA's ranking of the 32 teams in 'their' finals, trashed Saudi Arabia 5-0 in front of a surprised and ultimately delighted 78,011 Luzhniki fans.
Midfielder Yuri Gazinsky headed the first goal of the finals after only 12 minutes with substitute Denis Cheryshev following up shortly before the interval. That was nothing compared with what was to come in front of Russian President Vladimir Putin and a dozen political leaders from around the world.
Artem Dzyuba, a further substitute, headed a third before providing the assist for man of the match Cheryshev to strike again superbly in stoppage time. That still left vital seconds for playmaker Aleksandr Golovin to curl home a free kick for the biggest win in an Opening Match since 1934.
Coach Stanislav Cherchesov had worked diligently with a limited group of players but most home fans, according to polls and surveys, had thought progressing beyond Group A would be a struggle.
Maybe Putin had feared the same so he was on the phone to Cherchesov immediately after the final whistle to offer congratulations to coach and players and urge them to keep up the Group One good work against Egypt and then Uruguay.
Cherchesov will not permit complacency but nor did he want to stifle the celebrations, saying: "To forget winning an Opening Match like this is not easy to do. So give the players a chance to celebrate and then tomorrow we will draw the appropriate conclusions.
"Don't be surprised if something is reshuffled because every game is different and we need to win again."
Russia's victorious performance matched the exhortations of Robbie Williams in the pre-match opening ceremonials as he sang out: "Let me entertain you." Russia's players certainly did that, leaving an even happier smile on the face of Putin than when he set the tournament under way.
A lively opening produced a sharp contrast between the organised endeavor of the Russians and the nimble energy of the Saudis. Only 12 minutes were needed before Gazinsky headed the opening goal of the finals, converting an angled left-wing cross from Golovin, Russia's outstanding creative force.
Russia suffered a setback when injury-prone playmaker Alan Dzagoev pulled a hamstring and had to be replaced. But there was positive consolation as substitute Cheryshev sidestepping his way through a forest of the legs in the 42nd minute to increase the hosts' lead.
Golovin provided another decisive cross in the 72nd minute, this time from the right, for another newly-arrived substitute in Dzyuba to convert. Dzyuba then provided the stoppage-time assist from which Cheryshev, the Real Madrid cast-off now with Villarreal, struck a superb fourth.
That still left time for Golovin to wrap it all up by curling home a right-wing free kick. It was no more than Russia deserved.
Last July Juan Antonio Pizzi, the Saudis' coach, guided Chile to the final of the Confederations Cup here in Russia. He will do well to even take his current team out of the group stage. The Saudis rank 67 in the world and barely looked even that good.
Saudi Arabia have sacked managers during tournaments before now but Pizzi shrugged off a question about his future and insisted his team would improve ahead of their next match against Uruguay.
Pizzi said: "Of course we didn't play as we had planned but we will improve. Russia won by a landslide but without doing anything much that surprised us."
Saudi sources, reportedly, have $25bn available to invest in world football. Perhaps some of that might also usefully be invested in the domestic game.
By Keir Radnedge, AIPS Football Commission Chairman