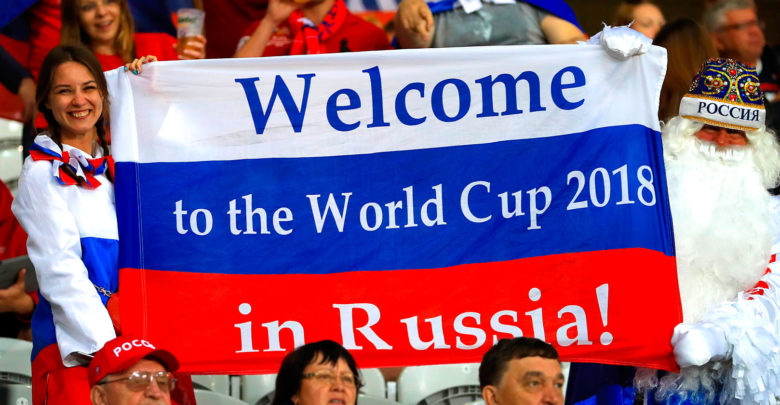 ussia have set an incredible pace at their own World Cup with a five-goal demolition of Saudi Arabia, followed by an assured, controlled 3-1 win against Mohammed Salah's Egypt.
The hosts had been written off by many, and a headline in the Moscow Times said they were 'doomed to fail.' They haven't, and with one foot in the last sixteen, they could go on and win the group.
But what happened to other host nations who won their opening two games?
Since 1950, when group stages were introduced, only seven host nations have won their first two matches. That exclusive club does not include 2014 hosts and semi-finalists Brazil, or 1966 hosts and winners England. There is also no room for South Africa – the only host nation to crash out in the group stages.
The last team to host and win their first two games was Germany in 2006. Die Mannschaft beat Costa Rica 4-2 in a thriller in Munich, followed up by a 1-0 win over Poland. They ended up reaching the semi-finals, after beating Argentina on penalties in the previous round, but two extra time goals scored by Italy ended their hopes for a place in the final. If Russia could reach the semi finals, it would be a shock akin to that of South Korea in 2002. They showed that it was possible, but can lightening strike twice?
In 1998, France went even better and are the last hosts to win the World Cup. They needed extra time in the round of 16, and penalties in the quarter-final, but the French were magnificent, rounding off the tournament with a 3-0 win over the star-studded Brazilians. A World Cup win for Russia is almost unfathomable – there are just too many good teams to beat along the way. Uruguay next Monday will be their first big test against top-level opposition and it will be interesting to see how they cope.
Italy got off to a strong start in 1990, beating Austria and the USA. They edged out Uruguay and then the Republic of Ireland to reach the semi -finals, but then came up against Diego Maradona's Argentina. "Naples is not Italy," Maradona said before the game, urging the locals to support his side.
Argentina won, but ultimately Maradona lost. His house was pelted with rocks and he was found guilty of using cocaine. He never played in Italy again. No player at this tournament would surely dare to try to turn Putin's Russia on itself, but if the hosts get a fortuitous draw in the last 16 (if they make it) and then can get lucky against a big side in the quarter-finals, the last four is not entirely unimaginable.
There is a familiar pattern emerging, and this trend continues back into the 1970's, 60's and 50's.
Argentina, hosts in 1978, won the tournament and West Germany, hosts in 1974, won the tournament. Both teams, like Russia, won their opening two games. Chile and Sweden complete the list of hosts to win their first two group ties, and while Chile reached the 1962 semi-finals, losing to Brazil in the national stadium, Sweden went all the way to the final in 1958, going down to Brazil too, this time in the Stockholm suburb of Solna.Of course, it is difficult to align results in 1958 with the predictions of 2018, but in 70 years of World Cup football the story remains the same. Every host nation that has won its first two games, has gone on to win more, with the worst result being a semi-final defeat. For a team that was 'doomed to fail', even a quarter-final would be an unqualified success.
.
By Jamie Johnson, telegraph.co.uk